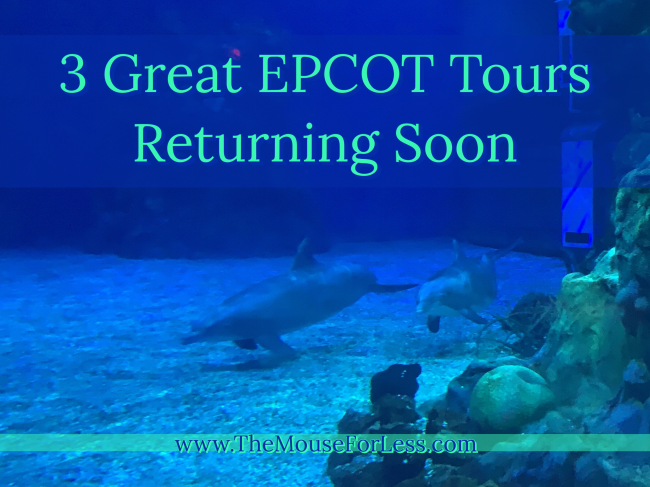 One of the questions I get asked a lot, especially for people who are looking for something unique to do for their trips, are about the various specialty tours that Walt Disney World offers. There are a few tours that have already returned. For example, the Keys to the Kingdom tour at the Magic Kingdom. Beginning October 2, a few more tours will be returning to EPCOT.
Behind the Seeds
The first is one of my favorites, the Behind the Seeds tour! What's this tour? Well, have you ever been on Living with the Land and seen that there were random Guests walking around while you're sailing on your boat? Chances are good that they were on the Behind the Seeds tour. This one-hour walking tour allows you to learn about gardening and natural sciences. This tour allows Guests to get an up-close view of the plants, fish, and insects found in the greenhouses. Your knowledgeable guide will help you discover some of the latest plant-growing techniques that are used at The Land, including hydroponics, and provide ideas you can try at home in your own garden!
DiveQuest
Maybe the oceans are something you are interested in. Well, two tours will be returning to The Seas with Nemo & Friends aquariums. The first is DiveQuest where Guests can dive right into the 5.7-million-gallon saltwater tank. This experience is only offered for SCUBA-certified Guests though.
Dolphins in Depth
If you are aren't SCUBA-certified or prefer to stay on land, you can enjoy the Dolphins in Depth tour. Here, Guests can meet the bottlenose dolphins at The Seas to learn about their undersea behavior and talk with the experts who work with them every day.
These three tours will be able to be booked beginning August 22.
Follow The Mouse For Less for more information about the latest EPCOT news.
For more Disney news and trip planning advice, follow The Mouse For Less on Facebook, Twitter, Instagram, YouTube, or TikTok.
For vacation planning information, please visit our
Walt Disney World
planning section.