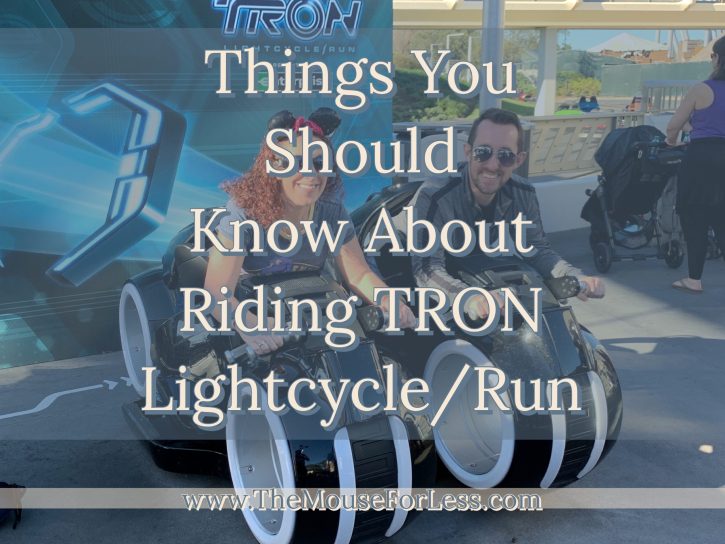 We are so excited for the official opening day of the newest coaster for the Walt Disney World Resort. As a reminder TRON Lightcycle/Run will be opening at the Magic Kingdom on April 4. But this is a completely new type of coaster experience for the resort and there are definitely some things you should know before riding on it.
How To Ride
The first, TRON  Lightcycle/Run will open with a virtual queue. When the attraction opens, a standby queue will not be available. Guests with a valid ticket and a theme park reservation for the Magic Kingdom on the same date will have the opportunity to request to join the virtual queue via the My Disney Experience app. More details are coming in relation to how the Virtual Queue will work for this attraction. We'll share those when they are released.
In addition to the Virtual Queue option, Guests may also have the chance to purchase Individual Lightning Lane entry for TRON Lightcycle/Run in the My Disney Experience app. Guests with a valid theme park admission and a park reservation for the Magic Kingdom on the same date who want to purchase an Individual Lightning Lane option for this attraction should visit the Disney Genie Service Tip Board in the app to choose an arrival window and make their purchase. Pricing will vary depending on the day and Guests can find out the price by checking the app.
Lockers/Storage
For the first time ever, a Walt Disney World attraction will require you to put your bags and loose articles in a locker. TRON Lightcycle/Run will feature a similar locker system that can be found over at Jurassic World VelociCoaster at Universal Orlando Resort.  This will be a double-sided, digitized locker system that can be found inside the attraction's queue. The lockers will be complimentary. They will pair with either your MagicBand, MagicBand+, or tickets for easy locking and unlocking. Guests without a MagicBand or other ticket media will be provided with a card to assign their locker. All items must be placed either in a locker before you board your Lightcycle. You can also place items such as cellphones, glasses or wallets in a small compartment located on the attraction vehicle.
Here is how the lockers will work:
View this post on Instagram
Disney PhotoPass
Finally, Guests will be able to relive this experience courtesy of Disney PhotoPass! That's because there will be both onboard photos and videos taken automatically. They will be linked to your My Disney Experience account through one of two methods:
Use your mobile device. You'll need to enable Bluetooth for the My Disney Experience app before riding. Then you'll need to ensure you've logged into the My Disney Experience app sometime earlier that day. You'll want to make sure you keep your device out of low power mode. You'll also want to make sure your mobile device is with you on your Lightcycle by storing it in the small compartment found on the ride vehicle.
You can also wear a MagicBand or MagicBand+ that's linked to your My Disney Experience account.
Follow The Mouse For Less for more information about the latest TRON Lightcycle/Run news.
For more Disney news and trip planning advice, follow The Mouse For Less on Facebook, Twitter, Instagram, YouTube, or TikTok.
For vacation planning information, please visit our
Walt Disney World
planning section.