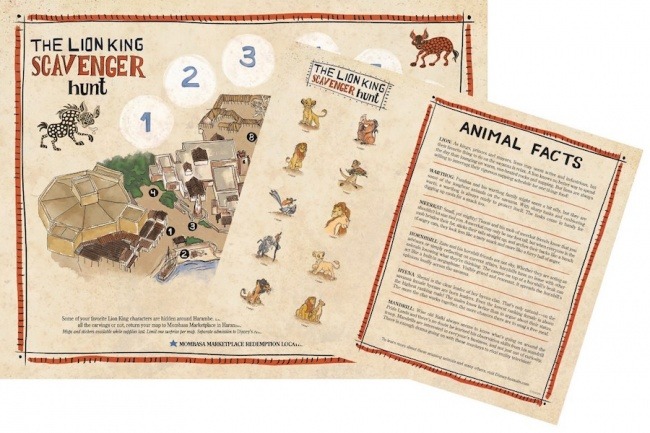 Can you believe that this year marks the 25th anniversary of the animated version of The Lion King? Disney's Animal Kingdom is celebrating the occasion with a fun fun scavenger hunt themed around the film!
Beginning July 19, The Lion King Scavenger Hunt will take place in the Africa section of the park. During this scavenger hunt experience, Guests will need to look around Harambe Village where they will find some of their favorite The Lion King characters, including Simba, Nala, Timon, Rafiki, and Pumbaa, to name a few. Each time you spot one, you'll need to add the corresponding sticker to your map of the place where you found them.
Maps will be available for purchase at the Outpost, Island Mercantile, Discovery Trading Company, and Mombasa Marketplace. When you have completed the hunt, (and even if you haven't), you can return your map to Mombasa Marketplace located in Harambe or The Outpost Shop found in the Oasis for a great savanna surprise.
Surprises are only available until either September 28 or while supplies last. Also, you are limited to one surprise per map.
There's no official word on how much the scavenger hunt will cost, but I suspect it will be in the same price range as similar Epcot scavenger hunts, which typically range between $5.99 and $6.99.
For vacation planning information, please visit our
Walt Disney World
planning section.