This summer is going to be hot at The Edison! The Disney Springs restaurant is bringing a Latin flair with its Havana Nights event. Taking place every other Wednesday through October 16, for no additional charge, Guests are invited to spend the evening dancing to the rhythm of the vibrant live music.
There will be a five piece band who will entertain visitors along with a DJ. Each will play a variety of Latin renditions of musical styles ranging from instrumentals to pop. Live music will take place from 8:00 p.m. to 12:00 a.m. and the DJ will be on hand from 9:00 p.m. to 1:00 a.m.
Looking to learn how to get in on the dancing fun? Complimentary salsa lessons will be available for both novices and pros! Salsa lessons will occur from 7:30 p.m. to 11:30 p.m.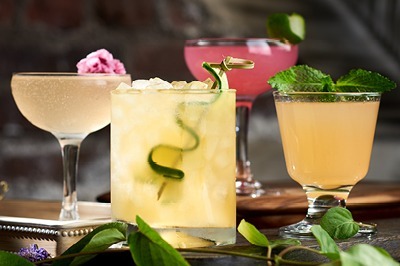 There will be special craft cocktail offers available on these nights that will transports guests to steamy Havana. They will cost $15 each and will include:
Tiempo Perdido: Get lost in the rhythm of the music sipping on the"Tiempo Perdido" cocktail, featuring Casamigos Mezcal,
Crème de Violette, Lillet Blanc, and lime juice.
Darkest Dance: Take your taste buds for a flavorfully sinful spin with the "Darkest Dance" cocktail, featuring Flor de Caña 7 Year Old Grand Reserva Rum, Ginger Beer, orange juice, and cucumber.
Lightest Limbo: Test your limits with the paradise-inspired "Lightest Limbo", a refreshingly tropical cocktail featuring Flor de Caña Extra Seco 4 Rum, Crème de Cacao, Strawberry Lemongrass Cordial, pineapple juice, and lemon juice.
Two Nights in Havana: Spice up your late night with the "Two Nights In Havana" cocktail, featuring Volcan Blanco, Cinnamon Cordial, and grapefruit juice topped with Chandon Brut.
Beer specials will cost $5 and will include:
Cerveza Pacifico Clara
Corona Premier
Corona Light
Havana Nights will take place on May 29, June 12, June 26, July 10, July 24, August 7, August 21, September 4, September 18, October 2, and October 16 beginning at 7:30 p.m.
For vacation planning information, please visit our
Walt Disney World
planning section.