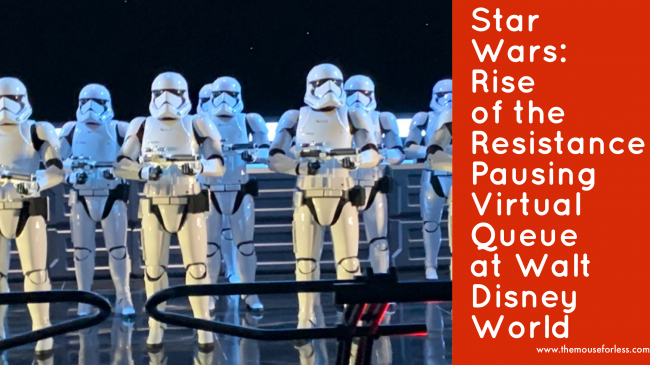 Well, this was news I didn't have on my BINGO card for today….or this week….or heck….even this year. But it is true! Star Wars: Rise of the Resistance will be pausing the virtual queue beginning on September 23.
The popular Star Wars: Galaxy's Edge attraction has only utilized a virtual queue since the attraction opened back in 2019. This will be the first time the at Disney's Hollywood Studios ride will utilize a standby queue officially. Rise of the Resistance has been a hard to ride attraction since opening. The virtual queue often filled to capacity within seconds of it opening at 7:00 a.m. Then it filled quickly again again at the 1:00 p.m. drop. (And before they went to getting the virtual queue from anywhere via the My Disney Experience app, there was the horrific option of attempting to join the virtual queue by having to be INSIDE the park.)
For those who have never ridden the attraction, Star Wars: Rise of the Resistance is a massive attraction with multiple ride systems that is unlike anything you've ever experienced at Walt Disney World Resort. The attraction starts with the Resistance needing your help! With the First Order desperate to extinguish the Resistance, the mission will include unexpected twists and turns. When your transport is captured by a First Order Star Destroyer filled with legions of stormtroopers, and even Kylo Ren, you're going to need all the help you can get. Fortunately, a covert team of Resistance fighters, including Rey and BB-8 is going to help you escape. It's really like 4 attractions in one with incredible effects and a trackless ride vehicle. 
Is This the End of Virtual Queues?
This is definitely not the end of virtual queues though at Walt Disney World. They will be used for the time being at Remy's Ratatouille Adventure when the attraction opens at EPCOT on October 1. In addition, the Walt Disney World Resort may decided to re-introduce the virtual queue for Rise of the Resistance at any time. The Disneyland Resort will still be using the virtual queue option for Rise of the Resistance, for now.
As you can see, this is an ever changing process. We will be sure to keep you updated as we learn more details about what to expect with Star Wars: Rise of the Resistance.
For vacation planning information, please visit our
Walt Disney World
planning section.