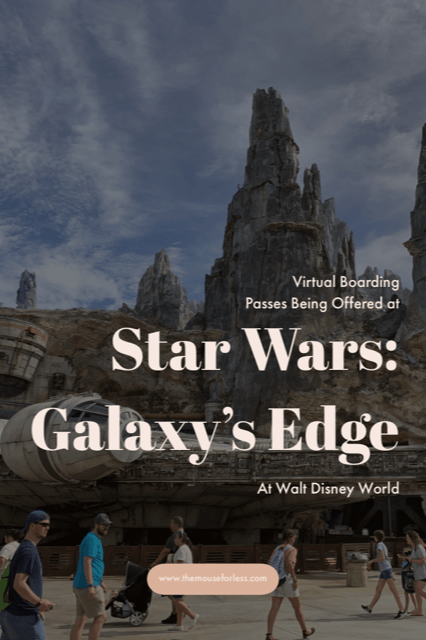 For those looking to visit Star Wars: Galaxy's Edge at Disney's Hollywood Studios, we now know that the park will indeed be offering a similar boarding pass queue that was offered at Disneyland. How will this virtual boarding pass queue work?
Well, early morning visitors will be able to head directly into the land to experience the shopping, dining, and Millennium Falcon: Smuggler's Run attraction.
However, as the day progresses, and the land fills up, there may be times when the virtual queue will be used for those who are looking to enter the land. For those who will need to join the virtual queue while you're waiting to enter Batuu, you will be free to enjoy the rest of the park. To find out what the land's current status is, Guests should check either the My Disney Experience app or check in with the Guest Experience team that can be found throughout the park.
Should you need to join the virtual queue, you'll need to make sure you have downloaded the latest version of the My Disney Experience app on your mobile device and have your tickets linked. To see if the land is open, you'll launch the app and look for the Star Wars: Galaxy's Edge: Status and Access section. If the land's status says open, you'll be able to proceed directly to the entrance near Grand Avenue. (That's near Muppet*Vision 3D.)
If the land is full, it will say Access by Boarding Group Only and you will then select the option to Join a Boarding Group.
If you've selected to have push notifications, you'll be notified in that manner when it's time to visit the land. If you don't, you'll need to view the current boarding group status in the app, or check the various digital status boards that will be found throughout the park.
For those who choose not to use the My Disney Experience app, if you the land is full and you would like to join a boarding group, you'll need to visit a Guest Experience Team kiosk.
Oh and as a reminder, for those looking to visit Oga's Cantina, build a lightsaber at Savi's Workshop, or build a droid at Droid Depot, you will need to make a separate reservation. And while it hasn't been officially confirmed, I suspect that if the land is listed as full and you have a reservation, you will be allowed to enter the land.
May the force be with those of you looking to visit Batuu!
For vacation planning information, please visit our
Walt Disney World
planning section.