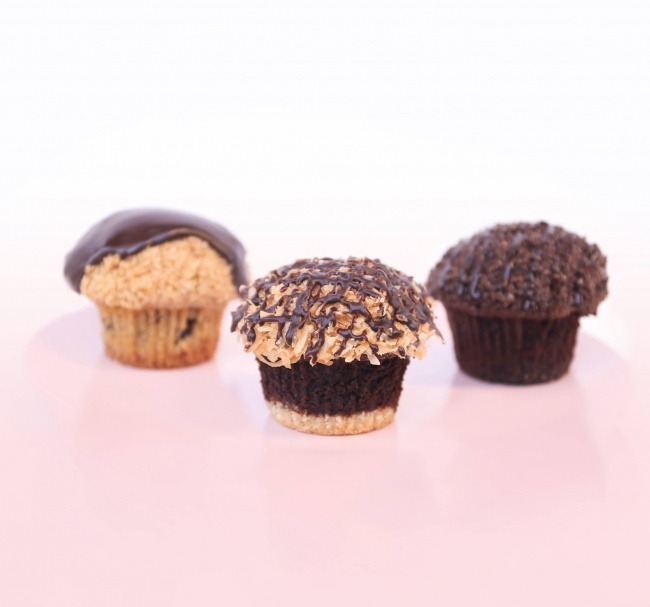 It's Girl Scout cookie season? Want to know how I know? Well, everyone in my office has been talking about these delectable treats, wondering where they can order some! While I have to wait for my cookies to be delivered, if you visit Disney Springs, you can stop by Sprinkles Cupcakes to grab one of three (or who are we kidding…all three) cupcakes inspired by popular Girl Scout cookie flavors!
The popular cupcake chain is offering The Cookie Series which is now available through February 2. They are offering flavors like Thin Mint, Samoa and Tagalong.
According to Sprinkles' website, these three choices will only be offered for a limited time with limited dates for each one. Take a look at when you can grab the cupcake that resembles your favorite cookie:
1/14 – 1/19: Chocolate Mint featuring a chocolate cookie crust, chocolate chocolate chip cake, chocolate peppermint frosting, chocolate cookie crumble, ganache drizzle. (Thin Mint inspired)
1/20 – 1/26: Toasted Coconut, Caramel & Chocolate featuring a sugar cookie crust, Belgian chocolate cake, caramel frosting, toasted coconut, finished with ganache (Samoa inspired)
1/27 – 1/31: Peanut Butter Ganache featuring a cookie crust, chocolate peanut butter cake, peanut butter frosting cookie crumble, ladle of ganache (Tagalog inspired)
Keep in mind that these treats are only baking for a limited time. You don't want to miss out!
For vacation planning information, please visit our
Walt Disney World
planning section.