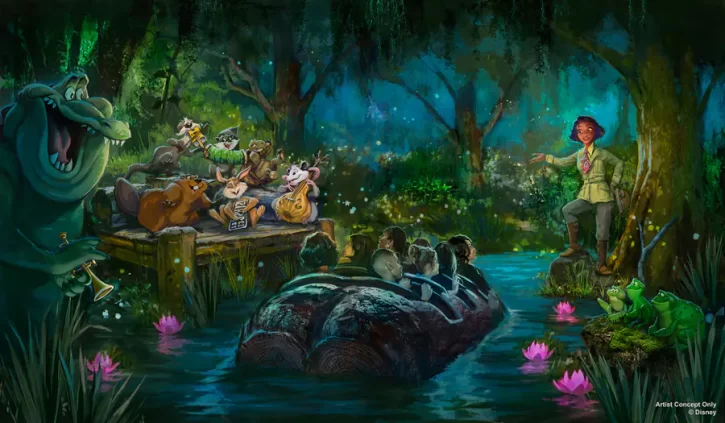 We've all known for a while that this day would come as soon as it was announced that Splash Mountain would be closing to make way for the upcoming Tiana's Bayou Adventure retheme. Today, Disney has finally shared the date that Splash Mountain would be closing at Walt Disney World to make way for this updated attraction. That day is January 23, 2023, which means the last day you'll be able to ride this Magic Kingdom attraction will be January 22.
Tiana's Bayou Adventure will take you on a journey inspired by the story and characters from the hit film, "The Princess and the Frog." The ride will pick up where that story left off. The attraction will take Guests on a musical adventure inspired by the beloved story and characters from the fan-favorite film. Guests will join Princess Tiana, Naveen and alligator Louis through the bayou. You'll experience the fun as they prepare to host a one-of-a-kind Mardi Gras celebration. Along the way, guests will encounter familiar faces, make new friends and travel through the bayou. They will experience original music inspired by songs from the film.
We also got a first look at a new scene. Plus we get to see some of the new characters that we'll be meeting along the way. This new scene is the thrilling moment you first drop into the bayou and encounter some friends both new and familiar. Fireflies will light up the night and invite you deeper into the bayou.
There will also be zydeco music that will fill the air. Zydeco is a special blend of rhythm and blues that was born in Louisiana. In this scene, you'll find Louis, who explains where this amazing music is coming from. Tiana made some new friends. There's a band full of adorable critters, including an otter, a rabbit, a racoon, a beaver, a turtle and others. The band members sing and play instruments made of natural materials they found in the bayou.
Splash Mountain will also be changing over at Disneyland, and additional information about that version's update will be shared at a later date.
Tiana's Bayou Adventure is expected to open in late 2024.
Follow The Mouse For Less for more information about the latest Tiana's Bayou Adventure news.
For more Disney news and trip planning advice, follow The Mouse For Less on Facebook, Twitter, Instagram, YouTube, or TikTok.
For vacation planning information, please visit our
Walt Disney World
planning section.