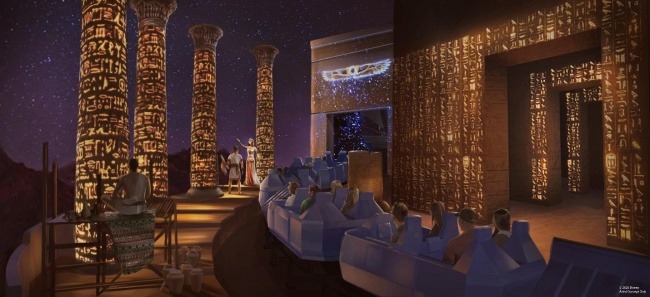 Back in August at the D23 Expo it was announced that as part of the massive overhaul happening to Epcot that the classic attraction, Spaceship Earth would be closing for a very large refurbishment, bringing the attraction into a new light….quite literally.
With the updated version of Spaceship Earth we'll learn the story of humanity – following our journey from prehistoric humans to today. According to what they talked about at the D23 Expo, throughout this new iteration, there will be a new guide that will be featured which will be known as a story light. This "story light" will follow along with each of the scenes and will bring the entire ride-through experience to life in dynamic ways.
Now, Many of the scenes that currently exist will simply be updated and they will be blended with brand-new scenes that tell a story about our human experience. One of these scenes will take us to an updated Egypt. (As seen above in the concept art.) Throughout the attraction, you'll hear new narration and see how light plays a central role in our shared human journey.
Spaceship Earth will also feature a brand new musical score that will focus on the moments and ideas that define our story.
This updated version will be the attraction's fourth update since the park's grand opening on October 1, 1982.
The current version of Spaceship Earth will close to make way for this new version on May 26. There is currently no word on when the attraction will reopen from it's update.
For vacation planning information, please visit our
Walt Disney World
planning section.