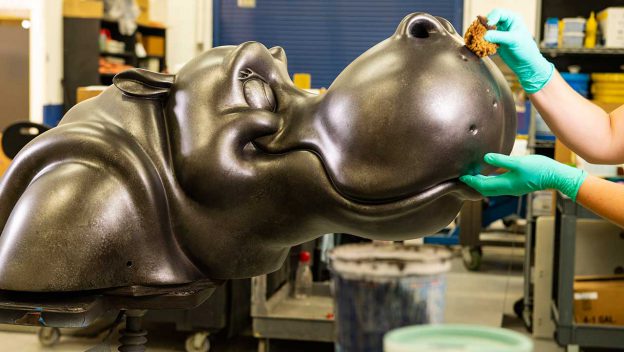 Guests will soon be able to visit Disney's Riviera Resort, which is themed around Walt's travels to European destinations. Part of the new resort will be a great pool area that will include the S'il Vous Play interactive water play area. This section will tie into the European theme of the resort as it draws inspiration from the grand public fountains that can be found throughout Europe. The S'il Vous Play water play area will have a great Disney tie-in though as it will feature characters from the film Fantasia.
This fountain is inspired by the "Dance of the Hours" segment. It celebrates music, art, dance and storytelling all while featuring whimsical animals, frolicking and playing in the water. Here in the S'il Vous Play water play area, you'll find an elephant filling a dump bucket with his trunk, hippos and ostriches dancing and playing, as well as hippos splashing water into decorative bowls and basins.
You may even spot the playful references to the animated film's classical music. In fact, the musical references found here will expand the artistic theme throughout the resort.
Disney's Riviera Resort at the Walt Disney World Resort will open in December 2019.
For vacation planning information, please visit our
Walt Disney World
planning section.