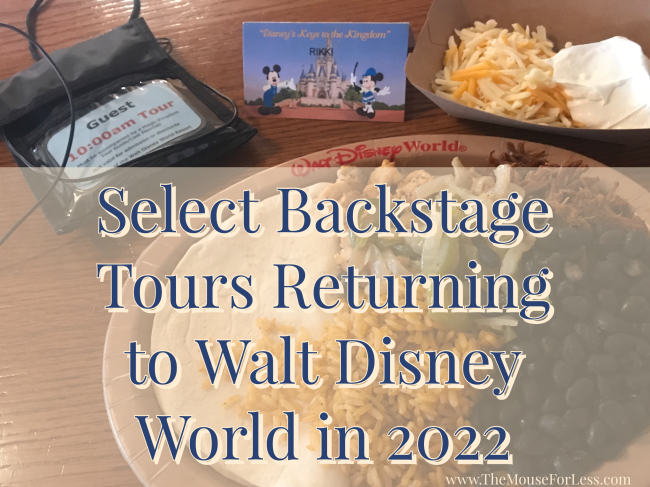 Another fan-favorite aspect of a Walt Disney World vacation is coming back! A select number of backstage tours will be returning in 2022, including the popular Keys to the Kingdom tour for the Magic Kingdom. These tours can be booked now and will officially return beginning February 6, 2022.
Keys to the Kingdom
During this tour, Guests are able to gain backstage access to legendary hidden areas on this five-hour walking tour of the Magic Kingdom! You'll even be able to have access to the underground "Utilidor" service tunnels! During this tour, you'll learn hidden secrets of classic attractions, enjoy lunch and more of the iconic theme park.
Caring for Giants
During this 60-minute tour at Disney's Animal Kingdom, you'll meet with a knowledgeable guide who will provide insight into the inner workings of the park's African elephant herd and learn about the day-to-day care for these amazing animals. You will also learn how Disney's conservation efforts are dedicated to the preservation of wild elephant populations around the world.
Wild Africa Trek
Wild Africa Trek combines action, adventure and education into a three-hour exhilarating safari adventure at Disney's Animal Kingdom. Guests will be able to cross a swinging rope bridge near crocodiles. You will also be able to view giraffes, rhinos and hippos as you ride across the open savanna in a safari vehicle. Along your journey, a guide will share insights about the animals you're viewing. You'll also hear details about the park's dedication to animal conservation around the world.
Up Close with Rhinos
This 60-minute tour takes you backstage to meet the park's rhinos. Your guides will introduce you to the white rhinos at Disney's Animal Kingdom. In addition, they'll offer fascinating insights into the species' behavior and biology. They will also discuss the challenges that threaten populations in the wild.
Savor the Savanna
Explore the sights, sounds, and tastes of Africa on Disney's Animal Kingdom's Savor the Savanna tour. Guests will be able to indulge in a sampling of African-inspired cuisine, paired with a selection of regional beer and wine offerings, as you gaze out across the Harambe Wildlife Reserve. During the experience, private guides shares tales of the residents who inhabit the reserve and the special animal care provided at the park.
Guests should make reservations in advance for all tours. Experiences located at the Magic Kingdom and Disney's Animal Kingdom do require valid theme park admission and reservations.
For vacation planning information, please visit our
Walt Disney World
planning section.