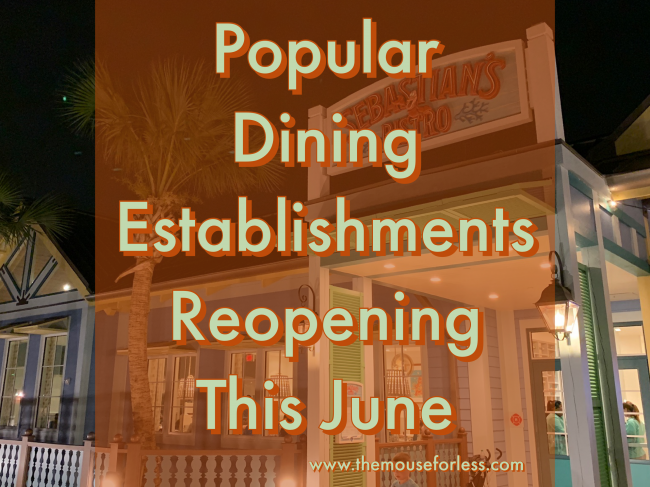 Who's ready to dine at favorite restaurants again? (There may have been audible screaming when some of these restaurants were announced to be returning!) Here's all the delicious details:
Walt Disney World
The restaurant that most people are SUPER excited is returning….'Ohana! This Disney's Polynesian Village Resort table service restaurant will open on July 9, with bookings available on June 10. When the restaurant reopens, 'Ohana will again offer all-you-care-to-enjoy breakfast and dinner offerings. There will be no Disney characters at breakfast; dinner will feature a strolling musician.
For breakfast, there will be pineapple-coconut breakfast bread, Stitch and Mickey Mouse waffles, ham, sausage, and breakfast potatoes. 'Ohana dinner will feature all-you-care-to-enjoy platters of grilled beef steak, roasted chicken, sausage, and island shrimp casserole served with fried rice and roasted broccolini. Guests will also be able to enjoy 'Ohana pot stickers and crispy soy chicken wings. Dessert will still be the 'Ohana bread pudding served warm with caramel sauce and vanilla ice cream.
Also returning will be Sebastian's Bistro located at Disney's Caribbean Beach Resort. It will be re-opening on June 24 with nightly walk-in availability through July 4. Guests can begin booking dining reservations beginning June 10 for reservations starting July 5.
Disneyland Resort
Two dining locations will be reopening at Disney California Adventure. Brunch will return at Lamplight Lounge Brunch beginning July 9 with bookings available June 14. (Friday, Saturday, Sunday Brunch only.) Also, Wine Country Trattoria will be reopening on July 17, with bookings beginning June 14.
And for those visiting Star Wars: Galaxy's Edge at Disneyland, you can once again return to Oga's Cantina. This location will reopen on June 17, and you can book reservations beginning June 14.
In addition, a few quick service locations will also be reopening beginning June 17. They are:
Tiki Juice Bar (mobile order available)
Docking Bay Food & Cargo (mobile order available)
Alien Pizza Planet (mobile order available)
Rancho del Zocalo Restaurante
So, looks like it's time to dine again at some favorites. Let us know which one you're going to  head to first!