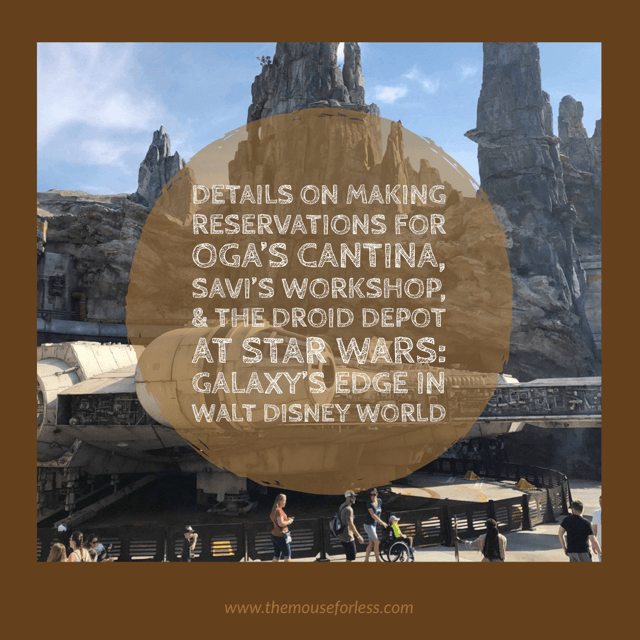 If you are anxiously awaiting your opportunity to build a lightsaber or drink a concoction with villainy and scum….I have good news for you! Reservations are now available for Walt Disney World's version of Oga's Cantina, Droid Depot, and Savi's Workshop at Star Wars: Galaxy's Edge.
The most popular option seems to be Oga's Cantina. This is a similar location to the Mos Eisley cantina from the films and it's where Guests can enjoy alcoholic and non-alcoholic options including the Bespin Fizz, Fuzzy Tauntaun, Jedi Mind Trick, and Yub Nub. Guests will also see fan-favorite Captain Rex from the original Star Tours who is there spinning tunes. Make your reservations here.
You can also create your own droid at the Droid Depot. This is a workshop that is stocked with parts, chips, and other items that are useful for constructing your very own droid. Once you choose from a BB-series unit or R-series unit, you'll then be provided with a basket with parts and blueprint to create your own droid. Reservations can be made here.
And for those who want their very own lightsaber, you'll need to head to Savi's Workshop! Here, a group known as the "Gatherers" will bring you into a covert workshop that is packed with unusual parts from across the galaxy. Under their guidance, you will be able to construct your lightsaber and bring it to life through the power of kyber crystals. Make your reservations here.
The question is, how are you going to create your own Star Wars adventure in Star Wars: Galaxy's Edge?
For vacation planning information, please visit our
Walt Disney World
planning section.