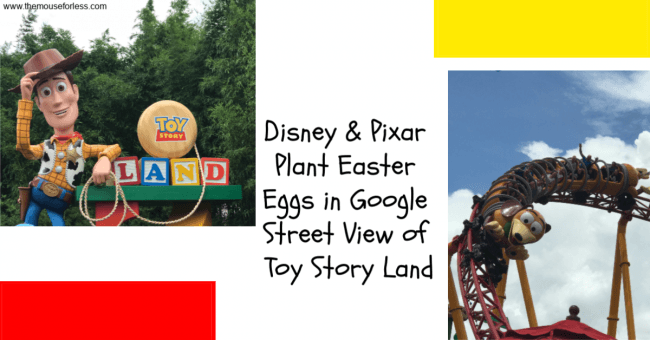 One of the things that Pixar is famous for is planting Easter eggs in their movies. These can range from small nods to animators and other jokes, upcoming and past projects, and yes, even that famous Pizza Planet truck. It really is fun to try to spot just what nuggets they have included for those of us with eagle eyes to spot. But did you know that if you look at the Google Street View of Toy Story Land at Disney's Hollywood Studios, well, the company decided to include a few Easter Eggs here too.
You see, the team at Disney saw an opportunity arise to bring this iconic tradition to life in a brand-new medium. Working hand in hand with Pixar, Disney identified eight unique Easter Eggs, and hid them throughout the land on the day when Google Street View was captured.
Now, we're gonna share the spoilers….so if you want to try to find them on your own, you can do that here.
Ok…want to find out what they are? Here's the full list:
A guest posed as Sid, the main antagonist from the first Toy Story film.
A sports jersey bearing the name "McQueen" and the number "95", in reference to Lightning McQueen, protagonist from the Cars franchise.
A guest playing Miguel's guitar, a major piece from the film Coco.
A toy version of the Pizza Planet truck, which appears in each Pixar film.
A shirt featuring the Buy n Large logo, a fictional brand spanning across the Pixar films.
"A113", a hidden sequence appearing in each and every Pixar film.
A pair of guests holding umbrellas in reference to the Pixar Short, "The Blue Umbrella."
A backpack draped with a luggage tag featuring Nemo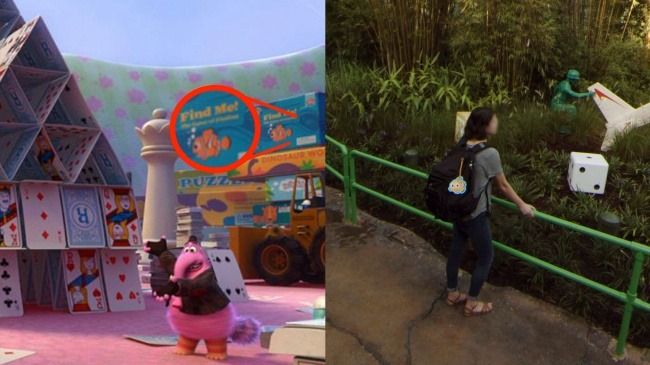 How cool are these Easter Eggs that are located in Toy Story Land?
For vacation planning information, please visit our
Walt Disney World
planning section.