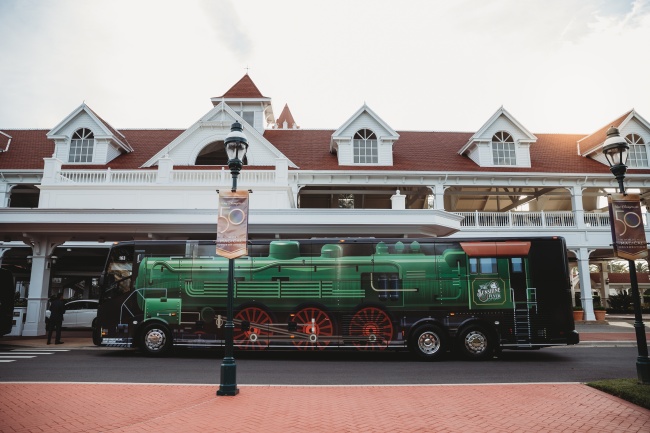 A brand new themed motorcoach bus experience will soon be available for transporting Guests from the Orlando International Airport to Walt Disney World Resort. Called The Sunshine Flyer, the motorcoaches will resemble old-fashioned passenger cars and train engines. Busses will offer a glimpse into 1920s rail travel. That's because the bus designs will resemble trains and staff will be themed after 1920s rail conductors and engineers.
"We're incredibly excited to launch The Sunshine Flyer and give Disney guests the chance to kickstart their vacation with a fun, unique travel experience," said Frank Sherman, CEO of TMS. "Everyone knows the magic of Disney once they're inside the park gates. But, through The Sunshine Flyer, we're able to give guests the chance to start their vacation from the minute they step off the plane and turn what used to be a procedural drive into the beginning of an adventure to remember."
Transportation Management Services (TMS) is the company behind the new bus service. They have 25 years of experience as a large events transportation company. They have worked with events such as the FIFA World Cup, NBA Finals and various PGA TOUR Tournaments. The Sunshine Flyer will service all Disney resorts. To make the experience comfortable for Guests, they will include a bathroom, USB chargers and three-point seatbelts.
How Will It Work?
Ahead of travel, Guests will book their tickets online. They will then receive a QR code they will scan once arriving at Orlando International Airport. Scanning this code will ensure smooth timing and departures to the Walt Disney World Resorts.
Tickets for The Sunshine Flyer must be booked at least four days ahead of arrival. Tickets are $17.00 per adult, $12.50 per child each way. For more information and to book tickets, visit www.sunshineflyer.com.
Make-A-Wish
In addition, in celebration of Disney's 50th anniversary, the Sunshine Flyer will donate 50% of all revenue from the first 50,000 passengers during the first 50 days of business to Make-A-Wish Central & Northern Florida to support their mission of creating life-changing wishes for children with critical illnesses. As a part of the Sunshine Flyer's commitment to giving back, all Make-A-Wish children and their families will receive complimentary service from the Sunshine Flyer. They will offer this perk for Make-A-Wish Children's Disney wishes indefinitely.
The End of Disney's Magical Express
As a reminder, Disney's Magical Express will no longer be offered beginning on January 1, 2022.
The Sunshine Flyer is just one of many new transportation offerings to take Guests to and from the Walt Disney World Resort from Orlando International Airport. Guests also have another option from Mears called Mears Connect.
The Sunshine Flyer will begin service from Orlando International Airport on February 1, 2022.
For vacation planning information, please visit our
Walt Disney World
planning section.