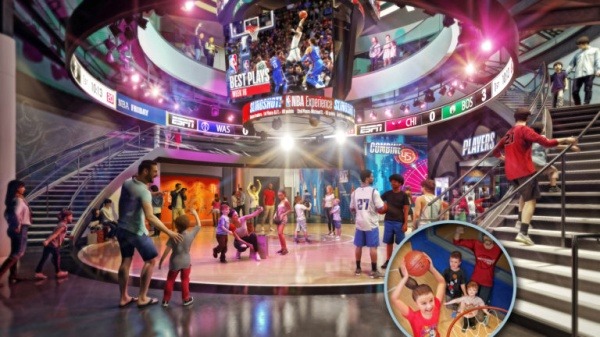 My husband is a huge NBA fan. His team, the San Antonio Spurs, is consistently on in our house. So, I can guarantee you that we will be making a beeline to the brand new NBA Experience when it debuts on August 12 at Disney Springs.
This all-new, fun-filled destination has been a collaboration in the making with the NBA. When Guests step inside it is slated to make them feel what it's like being a basketball superstar. Here, Guests will be invited to "Take Your Shot" courtesy of one of 13 interactive elements and hands-on activities across 44,000 square feet and two floors.
Guests will enter the NBA Experience and feel as if they're walking through the players' tunnel at an arena. This will be a ticketed experience and Guests will be able to take part in every activity and learn more about the game that they love.
Activities will include:
A slam dunk challenge, where Guests can change the height of a standard 10-foot hoop to as low as seven feet to perform their own superstar moves – captured by burst photography.
An activity that tests shooting skills with spots on a court that light up as guests move from one location to another attempting to sink as many shots as possible in 15 seconds.
A way for guests to see how they stack up to some of the world's best basketball players by measuring their vertical leap, wingspan, shooting and dribbling.
Personalization for various activities with guests' names and associating the activity with their favorite teams.
Real-time technology to aggregate statistics of NBA and WNBA games and players for continuous updates, while leaderboards will track top NBA Experience performers throughout each day.
A retail store featuring NBA-themed merchandise.
Take a better look at what Guests can experience with this video:
It definitely looks like an interesting experience, especially for those who are looking to do something outside the box on their vacation.
Will you be making the visit to the NBA Experience when it opens? Share your thoughts in the comments or on Facebook or Twitter!
Did you like this article? Make sure to share it with your friends! Check below for easy ways to share!
Want to visit the Walt Disney World Resort? Contact The Magic for Less Travel for more information and a free, no-obligation quote.

For vacation planning information, please visit our
Walt Disney World
planning section.