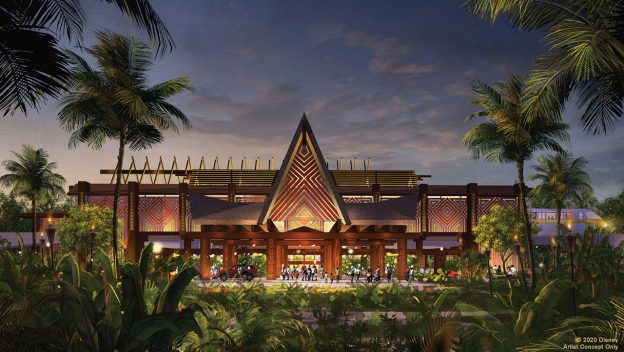 As we've previously shared with you, Disney's Polynesian Village Resort will be seeing some refurbishment work here soon, with work starting this month. Today, we have some exciting details about what the work will entail and what Guests will be able to expect once the resort reopens.
The first thing that Guests will be greeted with is a brand new porte cochere which will be updated with the iconic mid-20th century architecture the Polynesian is famous for. Colors, patterns, and textures that can currently be found in the resort will still be utilized, but the new entrance will include a high-pitched, open-truss roof covered in a thatch style. There will also be updates to the façade which will feature colors that complement the Longhouses at the resort. There will also be enhancements made to the gardens and fountains that can be found at the front of the resort. The porte cochere and front entrance, as well as the front desk will all close beginning September 28.
In addition, Guests will experience a brand new monorail station which will feature bold new wooden screens that will be covered with geometric patterns in bright, tropical colors. The monorail station will be closing on November 2.
Updates will also be made to the entryway inside the Great Ceremonial House which will add dramatic lighting elements, including beautiful chandeliers inspired by glass floats, fishing nets and oversized bamboo elements. The new chandeliers will match the existing chandelier that can already be found in the resort lobby.
During the work, Disney's Polynesian Village Resort Villas & Bungalows will remain open. In addition, those who will be staying at the resort will still be able to access the Great Ceremonial House, including the shops and restaurants, but hours will be adjusted. As of right now, beginning October 4, hours will be as follows:
Kona Café: Sunday–Thursday: 7:30 a.m.–8:30 p.m., Friday & Saturday: 7:30 a.m.–9:00 p.m.
Moana Mercantile: 8:00 a.m.–9:30 p.m.
Pineapple Lanai: 10:00 a.m.–9:00 p.m.
Tambu Lounge: Sunday–Thursday: 2:00 p.m.–9:00 p.m., Friday & Saturday: 4:00 p.m.–11:00 p.m.
It was also announced that the Guests rooms would also be seeing some updates, with inspiration that comes from the film Moana.
Disney's Polynesian Village Resort reopens in the summer of 2021 in order to tie into the 50th anniversary of the Walt Disney World Resort which is October 1, 2021.
For vacation planning information, please visit our
Walt Disney World
planning section.