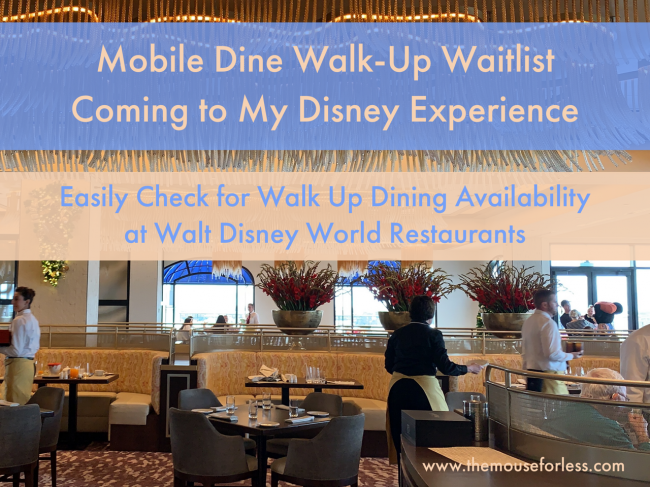 If you're looking to dine at the Walt Disney World Resort, there is a brand new option that will make things a little easier. Disney has introduced the brand new Mobile Dine Walk-Up Waitlist which can be found in the My Disney Experience app. The Mobile Dine Walk-Up Waitlist allows Guests the opportunity to quickly view current wait times that are available for restaurants, as well as any potential dining availability at participating Disney-owned, table service restaurants. Guests will then be able to add themselves to the waitlist via the app without needing to interact with a Cast Member.
In order to be able to join the waitlist, when Guests click to search for dining reservations on the app, you'll be able to see the "Now" option when searching by time for same day availability. You'll simply click to add your party to the waitlist, if there is availability.
As of right now, the Mobile Dine Walk-Up Waitlist is only available at a few select restaurants with more options expected to be rolled out to more restaurants in the near future. In addition, this option is only available for parties of seven or less. Parties of eight or more will still need to check at the restaurant podium to see about availability.
The Mobile Dine Walk-Up Waitlist is just another great option for Guests looking to dine at the Walt Disney World Resort, all while keeping physical distancing in mind, including Mobile Order, as well as the ability to check in to your dining reservation without stopping at the restaurant podium with Mobile Dine Check-In.
For vacation planning information, please visit our
Walt Disney World
planning section.