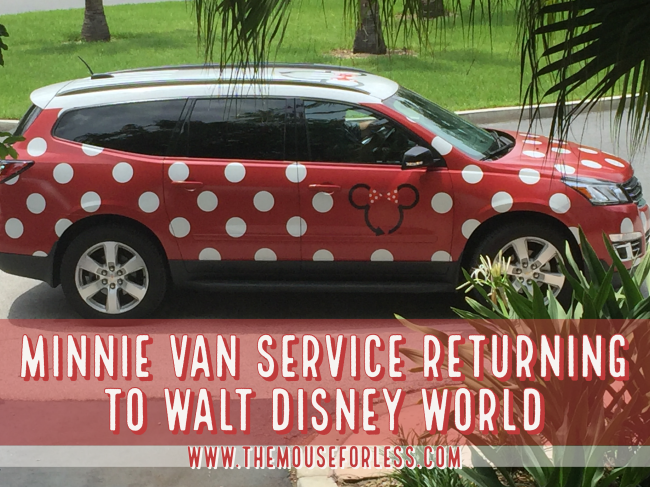 We have an official return date for the Minnie Vans at Walt Disney World! Guests will be able to ride again beginning on June 29. It was announced officially a few months ago that Minnie Vans would be returning. With Minnie Vans, Guests can reach select Walt Disney World destinations quickly and with a bit of extra pixie dust courtesy of Disney Cast Members. Minnie Vans even offer some special drop-off locations that can only be accessed by Minnie Vans!
Details
Minnie Vans are personal ride service that allows you to get around the Walt Disney World Resort quickly and comfortably. These are Disney-owned and operated vehicle that's themed to look like Minne Mouse and are driven by Cast Members and are easy to request by using the Lyft app on your smartphone. Cast Members can help share tips for planning their day, install car seats for little ones (two available per vehicle) and even play fan-favorite music. Cast Members are ready to provide an exceptional experience for your family of up to six passengers.
How It Works
Minnie Van Service is one of the most convenient transportation options to choose from at the Walt Disney World Resort. To book a ride, open your Lyft App and select a Minnie Van vehicle to pick you up! Guests can also use the app to request an Accessible Minnie Van, as needed. Pricing varies based on distance traveled from pickup location to requested destination within the Walt Disney World Resort. Guests can use the Lyft app to see the total cost and pay for the service.
More details about Minnie Vans can be found here.
Follow The Mouse For Less for more information about the latest Minnie Van news.
For more Disney news and trip planning advice, follow The Mouse For Less on Facebook, Twitter, Instagram, YouTube, or TikTok.
For vacation planning information, please visit our
Walt Disney World
planning section.