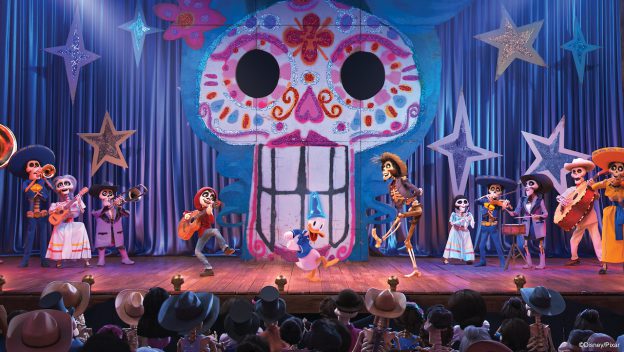 We love Mickey's PhilharMagic! Seeing some of our favorite characters up on that large screen, as Donald Duck creates havoc and we sing along to our favorite songs is simply a ton of fun! And soon, we'll have a brand new song that we'll be able to sing along with! That's because a new scene from the Pixar film, Coco will soon be added.
This new scene will include the musical number "Un Poco Loco". The new scene will first debut at Disney California Adventure and Disneyland Paris on July 17. Walt Disney World Resort Guests will have to wait a little while longer. It will be added added to Magic Kingdom later this year during the Walt Disney World Resort 50th anniversary celebration. (While no specific date was announced, I suspect it will be on October 1.)

Coco's music and characters will be combined with Donald Duck. This will be the very first time that both Pixar and Walt Disney Animation studio characters will appear on screen together. In addition, one of the film's original composers, Germaine Franco, has produced a Coco score that will be completely unique to Mickey's PhilharMagic.
Even better? This scene WON'T be replacing a current show scene! Guests will still be able to enjoy Beauty and the Beast, The Lion King, The Little Mermaid, Peter Pan, and more. This new Coco scene will actually be added alongside the show's current films.
We'll keep you posted on more details about updates for Walt Disney World's 50th anniversary! Stay tuned here at The Mouse For Less.