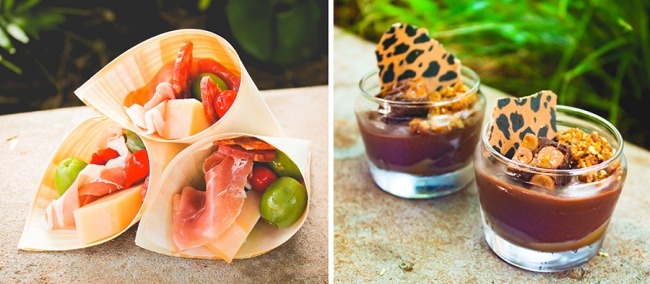 This summer, Disney's Animal Kingdom will be holding a fun dining event called Circle of Flavors: Harambe at Night. The goal of the event is to draw inspiration from African cultures. The evening will also celebrate The Lion King. During the evening's event, Guests will be able to take part in a progressive dinner, as well as meet favorite characters, catch live entertainment, and learn about the importance of endangered animals and the challenges they face around the world, as well as what efforts Disney is taking in working to protect them.
Guests will start the Circle of Life: Harambe at Night experience at the Harambe Train Station. Here you'll take part in a welcome reception featuring meat pies, Durban chips and dip, and a hand-selected array of meats and cheeses as well as Harambellini, a specialty beverage featuring sparkling South African wine blended with a bright burst of passion fruit, orange, and guava juices. Kids can sample cheese, fruit, and Tofaa (chocolate caramel-dipped green apples).
From there, you'll take your boarding pass that will allow you to hop on the train and head to Rafiki's Planet Watch. Here you can participate in the Kilimanjaro Safaris Virtual Realty experience. This is a virtual reality 360-degree safari experience that's only available during the event. Guests will also have the opportunity to participate in character greetings with Timon and Rafiki.
At Rafiki's there will be a few small bites like spiced crisp plaintains, South African oat and coconut bars, and Sundowner Safari Mix with spiced nuts and dried fruit. Kids can enjoy seasonal fruit and Trail Mix Bites which are made with granola, chocolate chips, raisins, and honey. Specialty beverages will include the Chief's Shandy (Tusker beer blended with lemonade), and Wanjohi's Dawa, a refreshing blend of tequila, pineapple, mango, and Ancho chile.
When you're ready to head back to the main event, you'll get back on the train to go to Harambe Market. Here you'll partake in a delicious dinner all while enjoying upbeat music from African musicians, a dance party, and storytelling.
The menu at Harambe Market features hearty dishes and yummy desserts. Around the marketplace, you'll find stations representing each of the animals represented during the evening as well as a selection of additional offerings in the courtyard. Stations and dishes include: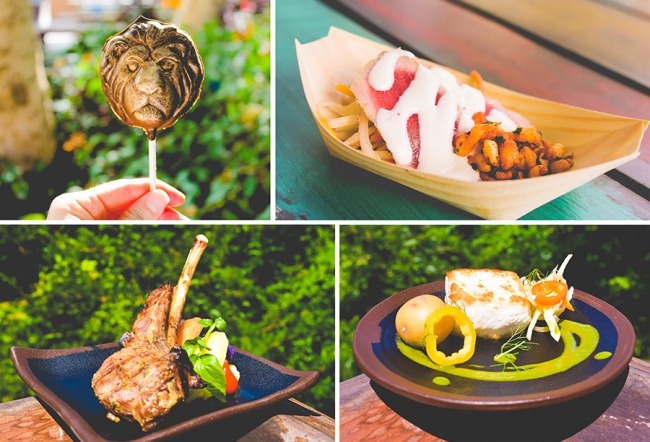 The African Lion Station
Char-Grilled Steak with Herb-Infused Mealie, Chakalaka, and a Red Wine Sauce
Chicken with Fingerling Potatoes, Kool Slaai, and Mango Sambal
Chicken Tenders (Kid's Option)
The Cape Buffalo Station
Shrimp Curry with Sustainable Shrimp, Cape Malay Green Coconut Curry, and Fragrant Basmati Rice
Grilled Sweet Corn with Farmer's Cheese, Chili-Lime Spice, and Citrus Aioli
Barbecued Ribs (Kid's Option)
Macaroni and Cheese (Kid's Option)
The Rhinoceros Station
Vegetable Curry with Roasted Seasonal Vegetables served over Basmati Rice
Vegetarian Potato and Pea Samosa, Pickled Vegetables, and Tamarind Dipping Sauce
Barbecued Ribs (Kid's Option)
Macaroni and Cheese (Kid's Option)
The African Elephant Station
Smoked Honey-glazed Pork Belly with White Bean Purée, Caramelized Apple-Bacon Chutney, and Curry-Apple Gastrique
The Leopard Station
Sustainable Fish with Coriander-Fennel Slaw and Dhania Chutney
Grilled Lamb with Goat Cheese Polenta and Roasted Garlic Sauce
Mini Corn Dog (Kid's Option)
Harambe Market Courtyard Station
Petite Greens, Local Tomatoes, Cucumber, Sweety Drop Peppers, Citrus, and Citrus Vinaigrette
Boerie Roll with South African Farmers' Style Sausage, Peppadews, and Pickled Vegetables
African Spiced Popcorn
Dessert Station
Honey-Caramel Candy Bar with Crispy Pearls
Animal-inspired Cupcakes
Lions S'mores Pop with Chocolate and Graham Cracker Crumbs
Specialty Beverages
Talking Monkey – Coffee Liqueur, Banana Liqueur, and Espresso-infused Snow Leopard Vodka
Marketplace Sangria – Blend of African Wine and Rooibos Tea finished with a Citrus and Mint Infusion
Safari Sunset – Passion Fruit, Strawberry, Orange, and Guava Juices blended with Rum
Assorted African-inspired Alcoholic and Non-Alcoholic Beverages
Assorted African Beer and Wine
Guests will learn a little bit about each of the Big Five animals at each station they stop at. Children who attend the event are invited to choose their favorite Big Five animal charm and learn more about them while creating their very own bracelet or necklace.
Circle of Flavors: Harambe at Night begins on July 24. It will take place on select nights from 6:00 p.m. – 9:00 p.m. The cost is $125 plus tax for adults and $99 plus tax for children (ages 3-9) and separate park admission is required. To make reservations for the Circle of Flavors: Harambe at Night event, call 407 WDW-DINE.
For vacation planning information, please visit our
Walt Disney World
planning section.