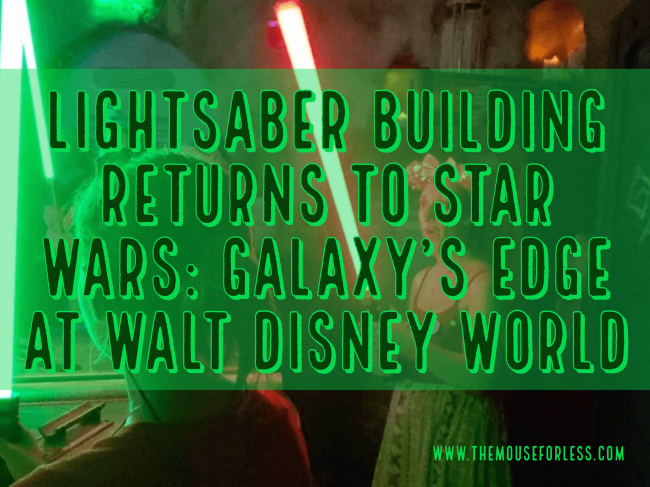 It was one of the most awesome things I've ever experienced and once again, Guests will have the ability to experience the same awestruck face I did. That's because Guests will once again have the ability to build their own lightsabers at Savi's Workshop in Star Wars: Galaxy's Edge. This Disney's Hollywood Studios experience will reopen for Guests on September 20.
Now, what is Savi's Workshop? It's an experiential store that allows Guests to create their very own one-of-a-kind lightsaber, based on their preferences. Guests can choose the style hilt from multiple pieces, as well as the color they would like, courtesy of one of four different kyber crystals – red, blue, green or violet. The four themes you can choose from are:
Peace and Justice: Salvaged scraps from fallen Jedi temples and crashed starships in these Republic-era designs honor the galaxy's former guardians.
Power and Control: Originally forged by dark side warriors, this style features rumored remnants from the Sith homeworld and abandoned temples.
Elemental Nature: This theme embodies the Force—an energy created by all living things, like Brylark trees, Cartusion whale bones and Rancor teeth.
Protection and Defense: Hilt materials bear mysterious motifs and inscriptions that reconnect users with the ancient wellspring of the Force.
Lightsabers cost $199.99 plus tax and include a carrying case.
Of course, due to physical distancing, the lightsaber building experience will be slightly different, as the capacity of the location will be reduced. (And keep in mind that the space was already pretty tight to begin with.) Due to this, advanced reservations are highly recommended and will be available beginning on September 16 via Disneyworld.com or the My Disney Experience mobile app. In order to make a reservation for Savi's Workshop, you must have a prior valid Disney Parks Pass reservation for Disney's Hollywood Studios. Walk-up availability may be available, should you not be able to make a reservation and you can also stop by the shop to check on the day of your visit.
If you are curious what the lightsaber building experience was like, of course, prior to physical distancing, take a look at our video:
For vacation planning information, please visit our
Walt Disney World
planning section.