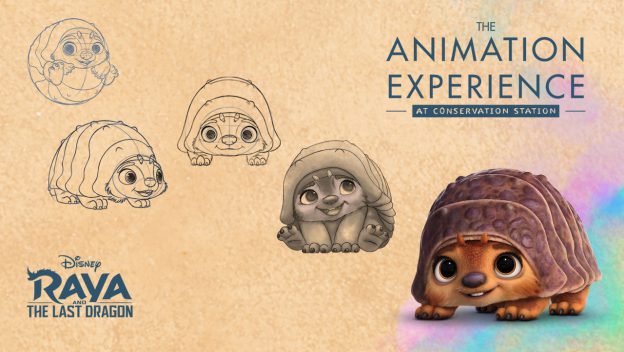 One of the coolest experiences that you can have at the Walt Disney World Resort is learning how to draw favorite characters from much loved films. This is courtesy of their "learn to draw" opportunities that can be found throughout the resort. Soon, Guests will be able to draw the adorable Tuk Tuk from the upcoming Walt Disney Animation film, Raya and the Last Dragon.
Guests can learn how to dray Raya's faithful companion, who looks like part-pill bug and part-pug at The Animation Experience, found in Conservation Station at Rafiki's Planet Watch in Disney's Animal Kingdom. According to Disney, Tuk Tuk has been Raya's best friend for years and he looks adorable! Also during this experience, you'll be able to see a behind-the-scenes look at the inspiration for Tuk Tuk. Kelly Marie Tran (voice of Raya) and Awkwafina (voice of Sisu) will share this special look. Guests will be able to learn how to draw Tuk Tuk beginning on February 22.
More Raya and the Last Dragon Fun
But if you want more Raya and the Last Dragon fun – good news! There is more to see at Disney's Animal Kingdom!
Over at the Discovery Island Stage, Guests can marvel at a 40-ton sand sculpture celebrating the new film. The display will feature Raya, Tuk Tuk, Sisu the last dragon and the Ongi. It will all be set in the fantasy world of Kumandra. A team of two talented artists will create the sculpture over 24 hours from February 19-21. The carving will remain on display at the theme park through the end of March.
The Film
Select theaters will still show the film, however most will likely watch it on Disney+. It will be available for viewing on the streaming service for an additional fee. Raya and the Last Dragon will be available, either on the big screen, or at home, beginning March 5.
For vacation planning information, please visit our
Walt Disney World
planning section.