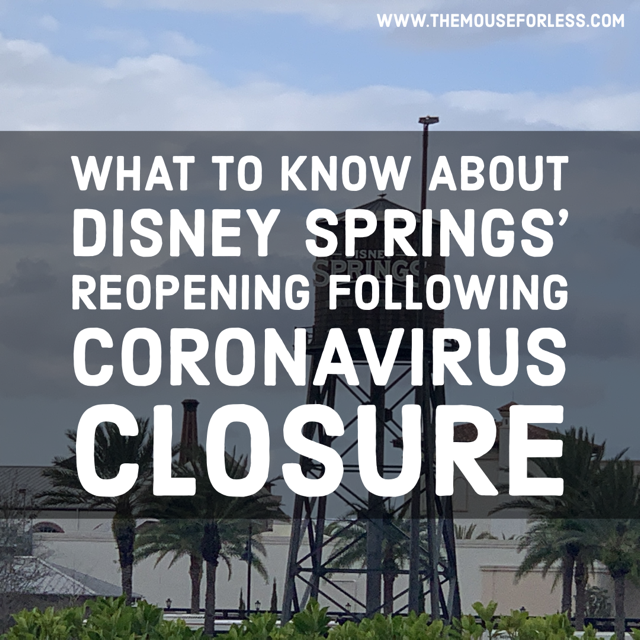 (Walt Disney World has lifted the last of its mask requirements, meaning face coverings will be optional for visitors at all locations on the central Florida Disney property.)
Disney Springs will officially be reopening from being closed due to the coronavirus on May 20. To do so, Disney will be taking many precautions to keep not only the Guests of the shopping and dining district safe, but also their Cast Members.
This phased reopening will start with many third-party shopping and dining destinations. Then on May 27, three Disney-owned and -operated locations will reopen. They include World of Disney, D-Luxe Burger (for mobile order) and the Marketplace Co-Op.
To keep Guests and Cast Members as safe as possible, Disney will be implementing a number of new health and safety measures and operational changes that are in line with applicable government requirements, as well as guidance from health authorities such as the CDC and other appropriate government agencies.
Here is what you need to know:
Parking and Entrances
Guests will initially be directed to self-park in the Orange and Lime Garages. All surface lots will be closed. In addition, the number of entrances for actually entering Disney Springs will be limited to four locations: the Orange and Lime Garages, the Hotel Plaza Boulevard pedestrian bridge and the ride share pick up/drop off area.
Face Coverings
All Guests ages 3 years and older, along with Cast Members will be required to wear an appropriate face covering while visiting Disney Springs. Guests must bring their own face coverings for their entire party. These masks will need to be worn throughout your entire visit over your nose and mouth. (With the exception of sitting at a table while dining).
Temperature Screenings
Upon arrival at Disney Springs, your entire party will be required to have your temperature screened courtesy of no-touch thermometers. Those who present with a temperature of 100.4 degrees or higher will be directed to an additional location for rescreening and assistance. Should you once again present with a temperature of 100.4 degrees or higher on your second test, you will not be allowed entry, nor will those in your party.
Physical Distancing and Capacity Measures
During this initial opening phase, the number of guests visiting will be limited in order to maintain appropriate physical distancing throughout Disney Springs. In addition, Guests will be limited inside each location. Guests will find directional signage to help Guests move throughout the property and there will be ground markings that will help promote proper distancing when needing to stand in line. Finally, Guests will find added physical barriers in select locations where it's difficult to maintain physical distancing.
Cleanliness
There will be increased cleaning and disinfection procedures done by Disney in high-traffic areas such as elevators and escalators, handrails, benches, tables, handles, restrooms and more. Guests will also be encouraged to frequently use hand-washing stations and hand sanitizer that will be found throughout the area.
Cashless Transactions
Guests should utilize cashless payment options whenever possible, which includes things like such as credit cards, debit cards, Disney Gift Cards, Disney Rewards Redemption Cards and mobile wallets (Apple Pay, Google Pay and Samsung Pay.) Guests may purchase a Disney Gift Card at select merchandise locations and Welcome Center (Guest Relations) to pay without cash.
Guests will find Cast Members walking throughout Disney Springs to explain new procedures and answer any questions Guests may have, as well as encouraging everyone to follow the measures above.
Moving on to Cast Members, they will be required to complete a health screening and temperature check at home, prior to coming to work. In addition, they will go through extensive new training.
As things progress, Disney is going to constantly monitor conditions and best practices. Because of that, operational changes and safety measures may change from time to time.
During this initial time period, select locations at Disney Springs will see reduced hours. For addition information, visit DisneySprings.com/reopening for the most up-to-date information on available shopping and dining locations, operating hours, new safety procedures and more.
In addition, as a reminder, while Disney Springs may be open, the Walt Disney World theme parks and resort hotels will currently remain temporarily closed. The whole resort closed back on March 16.
For vacation planning information, please visit our
Walt Disney World
planning section.