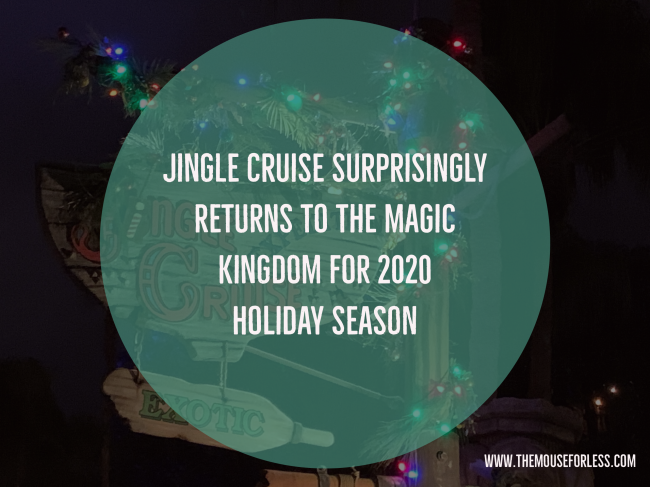 It wasn't announced that it was returning, but this weekend, Guests got a surprise when they entered Adventureland in the Magic Kingdom! That's because the fantastic holiday themed attraction, the Jingle Cruise has once again returned!
For those who don't know what the Jingle Cruise is, Guests will find that the Jungle Cruise Skippers are homesick during the holidays. To help them celebrate, they have decorated the queue house in celebration. In addition, while they were planning to have some decorations shipped, you'll plainly they didn't quite land in the correct destination. These decorations took a crash course. (Ok…that's enough of my bad Jungle Cruise puns.)
The Jingle Cruise boats are each are given a unique holiday name, and during your ride through, the Skippers share a slew of seasonal holiday jokes.
Take a look at our experience a few years back to see what the Jingle Cruise is really like:
This is just one of the great activities that will be taking place at the Magic Kingdom to celebrate the holiday season. In addition, the castle will showcase special projections that will rotate with series of designs including a whimsical Christmas sweater and a regal overlay of red, green and gold ornamentation. In addition, there will be special character cavalcades with Disney friends on festive floats dressed in their holiday finest. Plus you might see Gingerbread Men, the Elves and Reindeer, and the Toy Soldiers who will join the Main Street Philharmonic marching through the Magic Kingdom.
For more details about the holiday happening at the Walt Disney World Resort, click here.
For vacation planning information, please visit our
Walt Disney World
planning section.