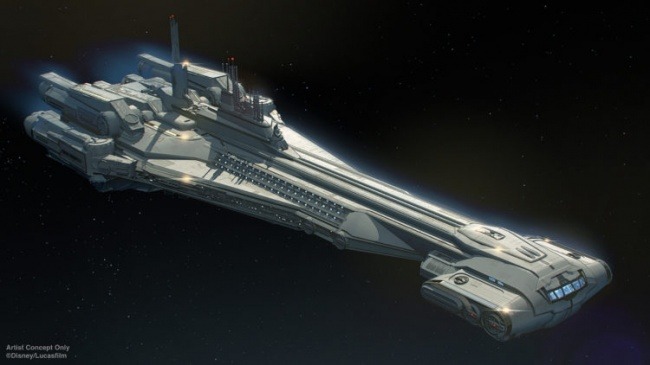 Are you anxiously awaiting the Star Wars: Galactic Starcruiser? We certainly are! This experience will take Guests "sailing" in space for two days and two nights. The Star Wars: Galactic Starcruiser  is not going to be a traditional hotel visit though….instead, you really want to look at this like a cruising experience on land. And this in-depth video that was shared by Disney definitely reiterated that.
In the video, the people who have helped to make the Starcruiser a reality talk about the experience that you'll have overall. It also discusses how some of the food ties into different areas in the Star Wars cannon. There will even be entertainment offerings that Guests will be able to experience. Oh and there is a discussion on your excursion to Batuu and how that experience will be drawn into your story on board the ship. But the Star Wars: Galactic Starcruiser doesn't only tie into the parks; it also ties into the Star Wars lore overall.
Take a look at the video to see what the Star Wars: Galactic Starcruiser will be like:
Another good part about the Star Wars: Galactic Starcruiser is that it is not just for the HUGE Star Wars fan; this experience is for everyone. So, if you want to go all in with your experience and really dive deep, by dressing in full costume and really looking to take part in as much of the storyline, you can. But if you want to just sit and watch while others really dive full in, you can do that too. Your experience can really be as in-depth as you want it to be.
Star Wars: Galactic Starcruiser will be opening in Spring of 2022.
For vacation planning information, please visit our
Walt Disney World
planning section.