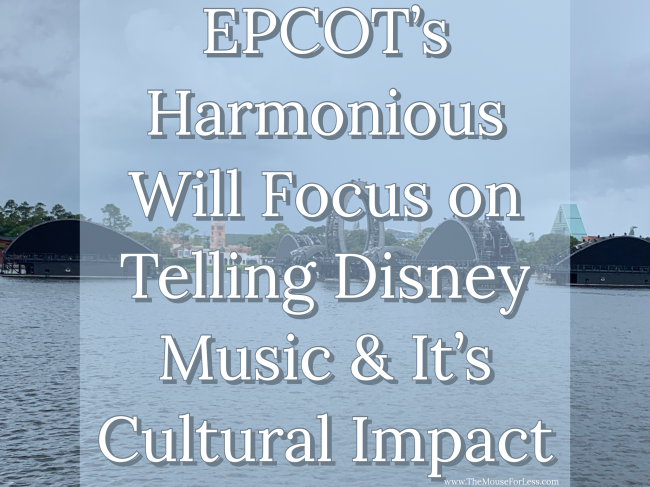 EPCOT'S new fireworks show officially debuts on October 1 as part of The World's Most Magical Celebration. This new show is going to focus on something that is so synonymous with Disney; it will be a celebration of music. Harmonious will focus on how Disney music serves as the world's soundtrack across cultures, continents and generations as a source of joy, hope and possibility.
Harmonious will include 15 new interpretations of favorite Disney songs. The songs have been influenced by cultures from around the world. An ensemble of 240 culturally diverse artists from around the globe have reimagined these songs. These include including musicians, composers, arrangers, vocalists and more. Overall, the music was performed and recorded through more than 110 sessions in nine different countries. The music will play alongside choreographed moving fountains and lights, lasers, fireworks and pyrotechnics at the World Showcase Lagoon.
The Harmonious Story
Here's the breakdown of the show:
Harmonious opens with an inspiring medley of "How Far I'll Go" from "Moana" and "Go the Distance" from "Hercules" performed by "American Idol" finalist and three-time GRAMMY nominee Danny Gokey, along with vocalists Elisha Garrett and Ninet Tayeb.
The Ndlovu Youth Choir from Johannesburg contributes a medley of favorites from "The Lion King" in both English and Zulu.
"Dig a Little Deeper" from "The Princess and the Frog" features vocalist Bryson Camper and legendary gospel artists Karen Clark Sheard and Kierra Sheard.
French pop singer Damien Sargue performs "Out There" from "The Hunchback of Notre Dame."
Award-winning artist Luis Fonsi will perform songs from  "Coco". He is responsible for several global hits including "Despacito," and award-winning Mexican singer/songwriter Joy.
Disney and Pixar's "Brave" receives a Celtic kick from GRAMMY- and Emmy-nominated violinist Máiréad Nesbitt and platinum-selling electronic artist, violinist and multi-talented entertainer Lindsey Stirling.
Musical selections from "Mulan," "The Jungle Book" and "Aladdin". This set will inlcude the vocal talents of Wang Liuqi, Hollie Hammel, Aditya Rao, Gaayatri Kaundinya, Jorgie Shkara and Sanaa Marahati.
"Harmonious" ends with a hopeful message of the magic that happens when people join together. The finale will be the inspiring ballad "Someday" (from "The Hunchback of Notre Dame"). The song combines with the new EPCOT theme from composer Pinar Toprak. The goal is to unite the people of the world in hope and promise found throughout the park every day.
In total, Harmonious will last 20 minutes and will include 13 different languages.
For vacation planning information, please visit our
Walt Disney World
planning section.