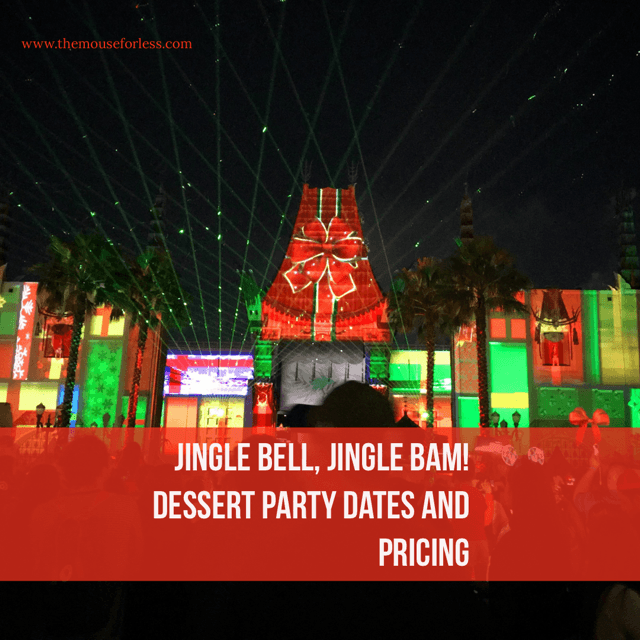 Get ready to get your jingle on! Guests who wish to see the nighttime fireworks spectacular Jingle Bell, Jingle BAM! can now book the holiday dessert party offering, giving them a reserved spot to view the Disney's Hollywood Studios show from, as well as some great snacks and beverages!
Menu options will include the classic Yule log, cheese fondue with pretzel bread, and Gingerbread martinis. This year, the dessert party will take place in a brand new location, along Echo Lake. In addition, while you enjoy your treats, you'll also want to make sure you stop and get your photo taken with a special VIP Disney character.
You'll then have a reserved viewing area for the 2 nighttime shows — the Wonderful World of Animation and Jingle Bell, Jingle BAM!.
The dessert party will take place from November 8 through January 5, 2020. The cost of the dessert party will fluctuate, depending on the date you attend:
November 8 to December 21 and January 2 to January 5: $89 per adult; $53 per child ages 3 to 9 (tax and gratuity included)
December 22 to January 1: $99 per adult; $59 per child ages 3 to 9 (tax and gratuity included)
For those who don't know, Jingle Bell, Jingle BAM! is hosted by Wayne and Lanny from ABC's Prep & Landing special. This extravaganza features iconic music, fireworks, special effects and state-of-the-art projections from some of your favorite Disney films including Bambi, Cinderella and Tim Burton's The Nightmare Before Christmas. The show builds to a very festive finale, as well as a special message from Santa Claus.
For vacation planning information, please visit our
Walt Disney World
planning section.