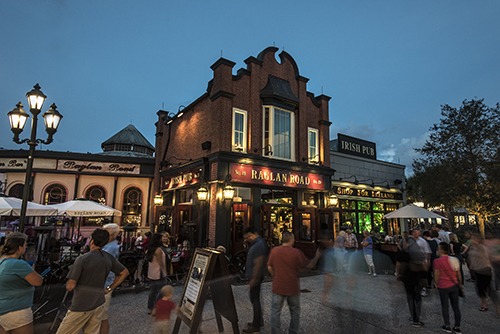 To celebrate the halfway point to St. Patrick's Day, every Labor Day weekend, the Disney Springs restaurant, Raglan Road holds The Great Irish Hooley! The Great Irish Hooley is a fun Irish festival that celebrates Irish song, dance, food and drink. The "Hooley" is a traditional Irish social celebration that combines music with entertainment and fun for the whole family. This year's event is taking place through Monday, September 2.
The main focus of this weekend event is on Irish music with an authentic line-up of bands featuring a lively mix of traditional Irish, folk, blues Celt grass, and soul, with nine performers in total found on the two Raglan Road stages. The Raglan Road Irish Dancers also get in on the fun too.
This year's Hooley also features Celtic face-painting, Hooley-crafted cocktails & beer and creative new bites. The restaurant will also offer its delicious Rollicking Raglan Brunch beginning at 9:00 a.m. on Saturday, Sunday, and Monday.
If you want to attend, the event is free of charge – no cover!
The Great Irish Hooley will take place on Friday from 4:00 p.m. until 1:00 a.m. and from Saturday through Monday from 12:00 p.m. until 1:00 a.m.
For more information about the event visit Raglan Road's website.
For vacation planning information, please visit our
Walt Disney World
planning section.