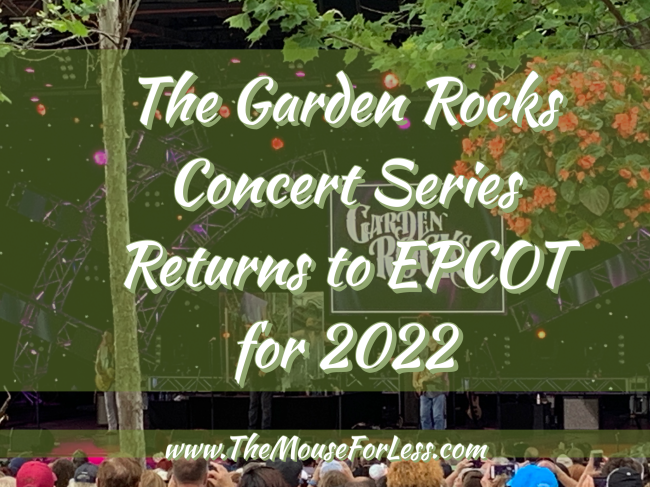 Another popular event is returning this year! The fan-favorite Garden Rocks Concert Series will once again be taking place as part of the EPCOT Flower & Garden Festival! This year, there will be a little twist. While there will be concerts that take place every day at the America Gardens Theatre, local Orlando bands will perform Tuesdays-Thursdays and well known recording artists will perform Fridays-Mondays.
Artists
Here is the list of famous acts that will be performing this year:
March 4-5 – The Guess Who
March 6-7 – Rick Springfield
March 11-12 – Melina Leon – NEW to Garden Rocks
March 18-19 – Mike DelGuidice, currently on tour with Billy Joel – NEW
March 20-21 – Kool & The Gang – NEW to Garden Rocks
March 25-28 – The Orchestra starring former members of ELO
April 1-2 – The Spinners
April 3-4 – The Pointer Sisters
April 8-9 – Blue October – NEW to Garden Rocks
April 15-16 – Tommy DeCarlo, singer of the band Boston – NEW
April 17-18 – Don Felder, Formerly of The Eagles
April 22-23 – STARSHIP featuring Mickey Thomas
April 24-25 – Claudia Leitte – NEW
April 29-30 – Berlin
May 1-2 – TobyMac
May 6-7 – Blood, Sweat & Tears
May 8-9 – The Commodores – NEW to Garden Rocks
May 13-14 – Ambrosia with Peter Beckett – NEW
May 20-21 – A Flock Of Seagulls
May 22-23 – Collin Raye – NEW
May 27-28 – Thelma Houston – NEW
May 29-30 – Little River Band
June 3-6 – Simple Plan
June 10-13 – Herman's Hermits starring Peter Noone
June 17-20 – Plain White T's
Dining Packages
If you want to secure your spot to see one of your favorite recording artists, you can book a Garden Rocks Dining Package! Guests can choose from one of four different dining locations at EPCOT for either lunch or dinner. Guests who book a dining package will get an appetizer, entrée and dessert or one full buffet, along with a non-alcoholic beverage. They will also receive one guaranteed seat per person to one Garden Rocks concert performance on the same day. The concert time will be assigned at the time of booking.
Participating restaurants and dining package prices, which exclude tax and gratuity are:
Biergarten 
Adult(ages 10 and up) $57.00; Child(ages 3 to 9) $32.00
Coral Reef 
Adult(ages 10 and up) $69.00; Child(ages 3 to 9) $22.00
Garden Grill 
Adult(ages 10 and up) $66.00; Child(ages 3 to 9) $43.00
Rose & Crown
Adult(ages 10 and up) $58.00; Child(ages 3 to 9) $22.00
These packages will be available beginning on January 19 and can be booked online.
The EPCOT International Flower & Garden Festival will take place from March 2 all the way through July 4 at the Walt Disney World Resort! Guests must have both valid admission and a park reservation for EPCOT on the same date. More details about this year's festival can be found here.
For vacation planning information, please visit our
Walt Disney World
planning section.