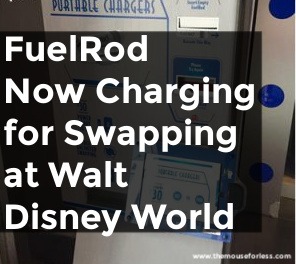 ** Currently, FuelRod swaps at Disney destinations are free of charge. **
Many Walt Disney World visitors have found the perks of the FuelRod portable charging devices that can be found all over the resort. It was easy to go to one of the kiosks, buy a portable charger for $30, then when the battery life ran out, return the charger (for free) and get a new one.
Beginning on November 1, the free swapping goes away. For those who are looking to swap for a fully charged FuelRod, Guests will now have to pay $3.00 to do so.
Signs are currently being seen around property on all FuelRod machines indicating this upcoming change.
When the replenished Fuel Rods were free, FuelRods were a convenient option for keeping phone batteries charged on the go, but now with the $3 fee, this option becomes a less than ideal choice. Especially when there are many external battery options available for purchase with a larger capacity that are available. Many cost in the same initial price range as the FuelRod, however, of course, the only downside is remembering to charge them.
For vacation planning information, please visit our
Walt Disney World
planning section.