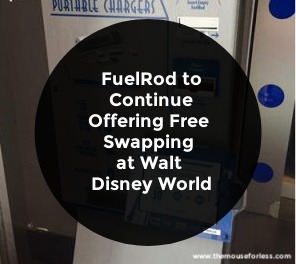 It was the big news of last week. For those who wanted to swap their FuelRod portable charging devices while visiting the Walt Disney World Resort, they would be charged $3.00 to do so. This change was supposed to go into effect on November 1. There were even signs on the machines that indicated that this change was occurring.
Then November 1 came and went and the charge didn't happen. That's because Disney decided to reverse their decision, at least for the time being.
According to Disney:
A decision has been made to not implement the $3 portable charger swap fee until further notice. Guests can continue to swap their FuelRod portable chargers using FuelRod's owned and operated kiosks at Walt Disney World Resort for no additional cost at this time.
Over the years, many Walt Disney World visitors have found the perks of the FuelRod portable charging devices because it was extremely easy to find one of the kiosks located in the parks or at the resort hotels, buy a portable charger for $30, then when the battery life ran out, return the charger (for free) and get a new one.
There are many external battery options available for purchase outside of the Walt Disney World Resort with a larger capacity. Many cost in the same price range as the FuelRod, however, with the free swapping capabilities continuing for the time being, the ease of using the FuelRod option continues to be a decent option for those who need a little extra juice.
For vacation planning information, please visit our
Walt Disney World
planning section.