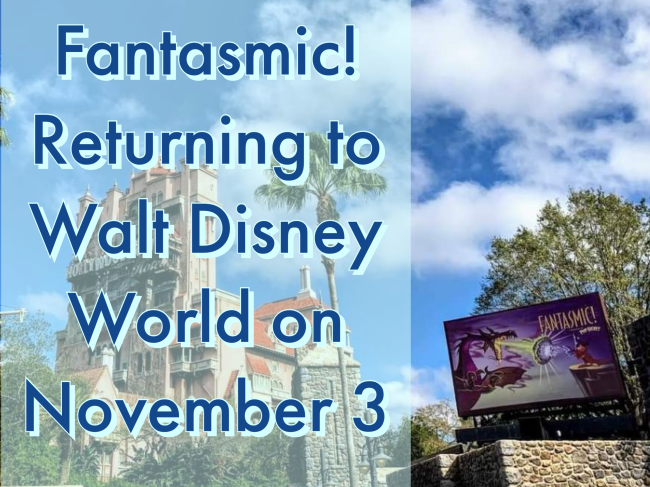 Cue the music! Fantasmic! at Disney's Hollywood Studios now has an official return date! The show will be back wowing Walt Disney World Guests once again beginning on November 3! (Disney recently just shared that the show would be returning this November, so a return date of November 3 is exciting to see!)
About the Show
When the show returns, it will still feature live performers, special effects, that catchy music, and pyrotechnics that you know and love, but there will be a completely new show sequence added too! According to Disney, this new sequence will feature some of our favorite Disney heroes.
"Through this entire sequence, we go on a journey with our heroes. We see them faced with a decision, and how hard that can be for them, then watch as they find that strength within themselves to push through in a truly spectacular way," says Disney Live Entertainment Show Director, Matthew Hamel.
The new heroes sequence features a chase with Aladdin that includes stunts never before seen in the show. There will also be a scene with Elsa set to the song "Show Yourself." Guests will also enjoy moments with Pocahontas, Moana and Mulan.
Fantasmic! features many Disney movies and characters all themed around a dream in which Mickey Mouse uses the power of imagination to help good to conquer evil.
Dining Packages
And never fear! The Fantasmic! dining packages will be returning too! Guests will be able to book those beginning October 26 for performances dates of November 30 and beyond. The Fantasmic! Dining Package includes reserved seating for the showing of Fantasmic! and includes lunch or dinner at select Disney's Hollywood Studios restaurants. When you purchase a Fantasmic! Dining Package, you can avoid lengthy lines for the show and still ensure that you will have a seat. We'll have the updated details when the are released on our website.
Follow The Mouse For Less for more information about the latest Fantasmic! news.
For more Disney news and trip planning advice, follow The Mouse For Less on Facebook, Twitter, Instagram, YouTube, or TikTok.
For vacation planning information, please visit our
Walt Disney World
planning section.