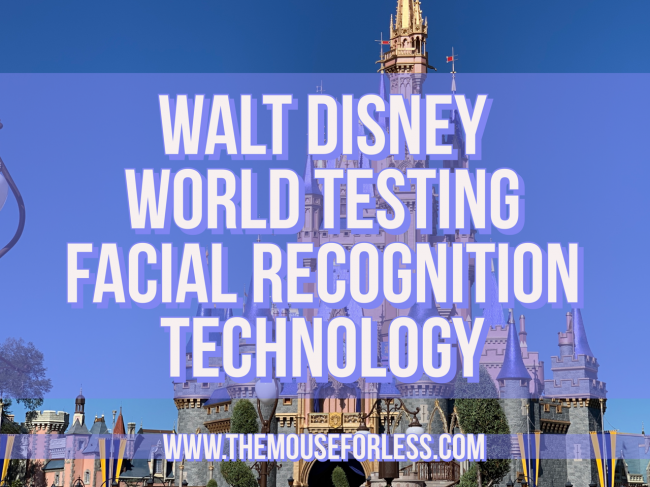 Right now, Guests visiting the Walt Disney World Resort will be able to participate in a test using facial recognition technology to enter the theme parks. This test will take place from March 23 through April 23. (This could change at any time, however.)
Disney states the reason for testing the facial recognition technology is due to searching for innovative and convenient ways to improve the Guest experience. This especially true due to the impact of COVID-19. Walt Disney World is keeping the future in mind. That means they are shifting focus to utilizing more and more touchless experiences. The technology that is being tested actually captures an image of a Guest's face. That image is then converted into a unique number, which is then associated with the form of admission that is being used to enter the park.
The good news, for those who don't want to participate is that as of right now, participation in this test is optional. For those interested in participating, you'll need to have valid theme park admission and a Disney Park Pass reservation. And yes, children under the age of 18 can participate with consent and in the presence of a parent or guardian.
How the Process Works
When you're ready to enter the park, enter one of the lanes designated for the test program.
You'll need to take off any hats, visors or sunglasses before you approach the facial recognition test zone. Do keep in mind that your face covering must remain on at all times.
Once in the facial recognition test zone, Guests should stand facing the camera and then position your valid park admission or MagicBand close to the scanner to activate the technology.
The technology will capture an image. That image will be converted into a unique number that will be associated with your valid ticket media.
It looks like right now, the test is only taking place at the Magic Kingdom. If you return to the Magic Kingdom during the test, Guests should consider entering using the same designated entry points. Re-entering through the same lanes helps Disney better understand how the technology works.
Security Is Important
For those who are wary, Disney is cognizant that the security, integrity, and confidentiality of a Guests' information is important. Through this test, Disney has implemented technical, administrative, and physical security measures. These measures are designed to protect Guest information from unauthorized access, disclosure, use and modification. However, Disney wants Guests to know that despite best efforts, no security measures are perfect or impenetrable. The images taken and the associated unique numbers captured for this technology test will be discarded within 30 days following the test's conclusion. Third parties will not be receiving any of this data.
More information can be found here.
For vacation planning information, please visit our
Walt Disney World
planning section.