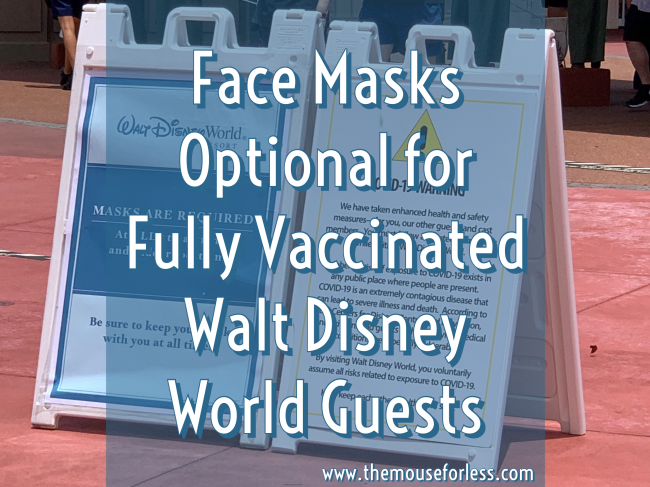 Another big change as far as masks are concerned for Guests visiting the Walt Disney World Resort. It was announced today beginning on June 15, face masks will be optional for those who are fully vaccinated. However, there are still a few circumstances when you will still need to wear a mask. So, yes, you'll still want to make sure you pack one!
According to Disney's website:

Face coverings will be optional for fully vaccinated Guests in most areas. Face coverings will still be required for all Guests on Disney transportation, including Disney buses, monorails and Disney Disney Skyliner. While we will not require proof of vaccination, we expect Guests who are not fully vaccinated to continue wearing face coverings in all indoor locations, and upon entering and throughout all attractions and transportation. Guests must observe current policies on face coverings until June 15. 
Disney has made this change due to changes in the community. They were encouraged that COVID-19 guidelines had been adjusted and eased by public health and government officials.
Since reopening, Disney has been very intentional and gradual in their approach to our COVID-19 health and safety protocols. Back in May, the Walt Disney World Resort made the change that Guests who were fully vaccinated could choose to not wear a face covering if they were outdoors.
In addition, recently the Universal Orlando Resort made the change to allow fully vaccinated Guests to not wear face masks throughout the resort.
We'll continue to share updates as we learn them.
For vacation planning information, please visit our
Walt Disney World
planning section.