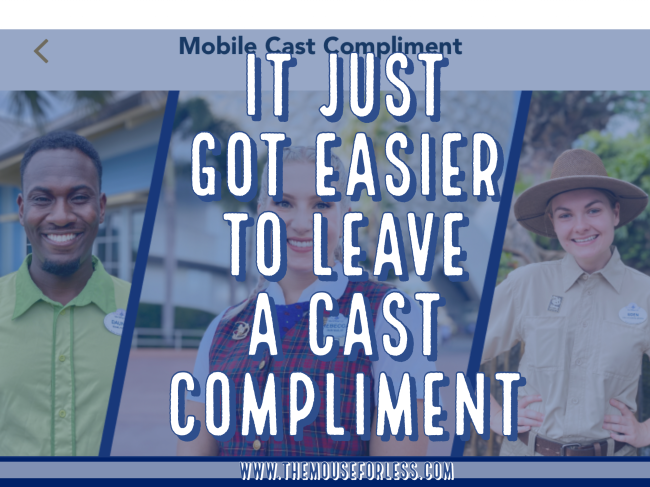 One of the best things you can do for a Cast Member is to leave a Cast Compliment when a Cast Member goes above and beyond during your Walt Disney World vacation. Back in October, Disney introduced a way to thank Cast Members in the My Disney Experience app, but it was a little clunky. You were only able to thank a group of Cast Members in a specific area. You couldn't call out specific ones.
However, now, thanks to an update in the My Disney Experience app, you can! Guests are now able to compliment individual Cast Members with new enhancements with the Mobile Cast Compliment option.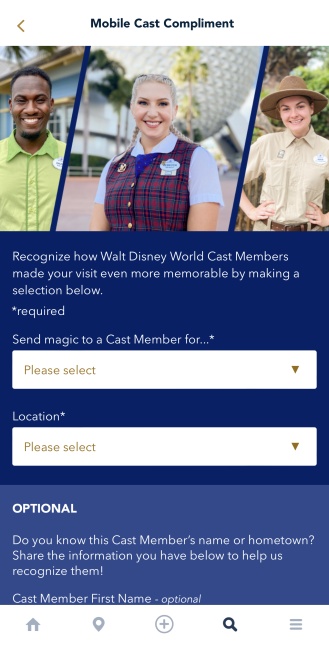 How does it work? Well, it's simple. After Guests choose a positive sentiment from a drop-down menu, they can enter the Cast Member's first name, hometown and date of interaction. Make sure to spell the Cast Member's first name and hometown correctly so they will properly be alerted, along with their leader to receive their positive recognition. If you didn't see their name, that's okay! You can still share a compliment about the location or area too!
The only suggestion I would have that would make this even better is to allow for us Guests to put in a personal message for that Cast Member. But maybe that can be something they do in the future.
To access Mobile Cast Compliment, search "Cast Compliment" in the My Disney Experience mobile app.
So, get ready to share the magic, because these Cast Compliments really do mean a lot to the Cast Members.
For more Disney news and trip planning advice, follow The Mouse For Less on Facebook, Twitter, Instagram, YouTube, or TikTok.
For vacation planning information, please visit our
Walt Disney World
planning section.