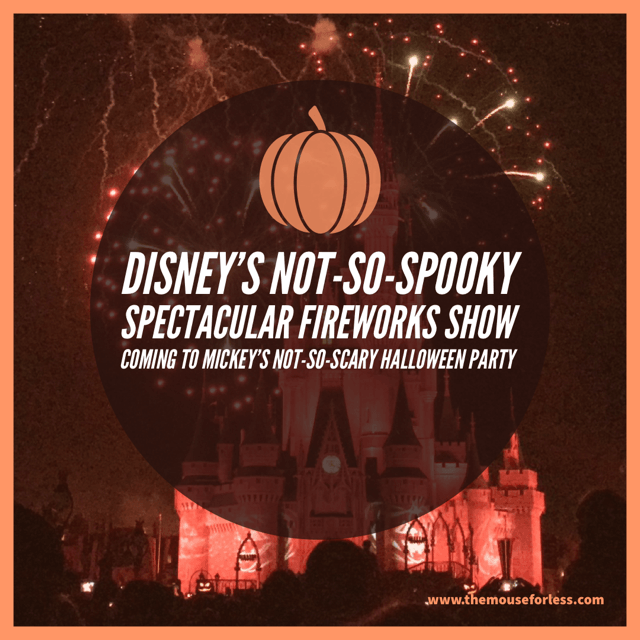 A few months ago, Disney let us all know that we had seen the Happy Hallowishes fireworks show at Mickey's Not-So-Scary Halloween Party for the last time. This year, for the event, a brand new show would be introduced. Today, we learned not only the name of the new show, but also a little more about what to expect.
The new show will be called "Disney's Not-So-Spooky Spectacular" and it will feature state-of-the-art projection effects, lasers, lighting and dazzling fireworks! During the spectacular, Jack Skellington from The Nightmare Before Christmas will serve as the show's host and he has come to tell a not-so-scary story about how anything can happen on Halloween night. From there, Jack's ghost dog, Zero will then fly off carrying everyone along on a trick-or-treating adventure.
During the trick or treat adventure portion of Disney's Not-So-Spooky Spectacular, we'll travel with Mickey, Minnie, Donald and Goofy who all find themselves drawn into a mysterious haunted house. Their journey takes them from one room of the house to another where they will encounter dancing skeletons, waltzing ghosts and a whole series of Disney villains.
This show is sure to be a spook-tacular, indeed!
But that's not all that's new for this year's Mickey's Not-So-Scary Halloween Party! You see, Guests will be able to follow the treat trail into the Monster World at Monsters Inc. Laugh Floor. Here you will also be able to interact with the hilarious monsters, as they learn about the Human World holiday of Halloween.
In addition, returning once again will be live pirates at Pirates of the Caribbean who will take us on a whole new adventure in search of treasure. Also, Space Mountain will go completely dark again with a new soundtrack. Finally, the Mad Tea Party will once again offer special lighting and music to give the attraction experience something special after dark.
Finally, Nancy Clancy from the hit Disney Junior series Fancy Nancy will join other Disney Junior pals at the "Storybook Circus Disney Junior Jam."
Mickey's Not-So-Scary Halloween Party takes place this year from August 16 through November 1.
For vacation planning information, please visit our
Walt Disney World
planning section.