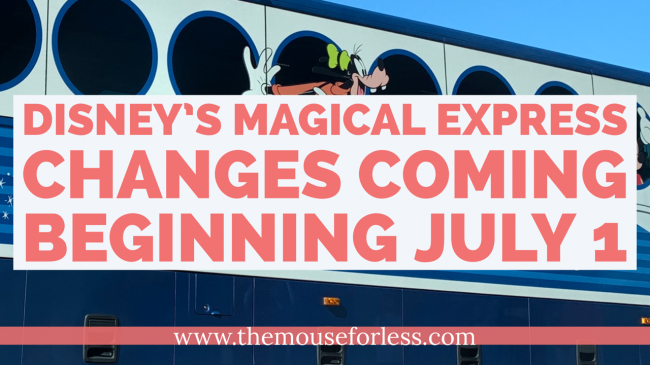 If you're visiting the Walt Disney World Resort beginning July 1 through the end of the year and you are using Disney's Magical Express, there's going to be a big change you need to be aware of. Beginning July 1, if you are using this service to get from the airport to your resort hotel, you will no longer receive mailed reservation confirmation information. (Boo! No more booklet!)
So, how will you be able to access Disney's Magical Express now? Well, Guests will simply be able to use either a MagicBand or MagicMobile to check in. Guests will need to check in for their motor coach at the Disney's Magical Express Welcome Center. What if you don't have a MagicBand or you haven't set up Magic Mobile? A Cast Member will manually retrieve your reservations using your IDs. In case you didn't know, this is the current protocol for those Guests who don't actually have their mailed reservation confirmation packet.
Guests are strongly encouraged to make their Magical Express reservations ahead of time to. This is to reduce the number of Guests whose reservations need to be retrieved manually. When making your reservation ahead of time, Guests should provide your round-trip flight information at the time of booking your vacation. If you didn't purchase MagicBands for this current trip, Disney suggests bringing a MagicBand from previous trip. Or you should set up MagicMobile on your phone. MagicMobile is a contactless way to visit the Walt Disney World Resort. Here is a handy walk-through of how to do that.
As a reminder, Disney's Magical Express will no longer operate beginning January 1, 2022.
For vacation planning information, please visit our
Walt Disney World
planning section.