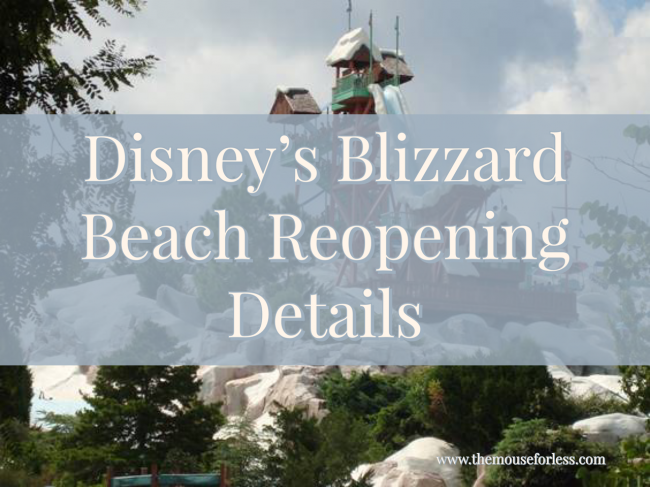 Guests will once again be able to splish and splash at Disney's Blizzard Beach Water Park beginning on March 7! And today, Disney shared that Guests can now purchase one-day water park tickets! Tickets will cost $69 + tax (Adult) and $63 + tax (ages 3 – 9). Other ticket options are also available. Tickets may be purchased online. They will remain valid through December 31, 2021. Unlike the theme parks, at this time, Guests will not need to make a park reservation to visit the water park. Of course, reservation requirements are subject to change.
What if you had already previously purchase water park tickets, prior the the parks closing? Good news! Any unused, unexpired 1-Day Disney Water Park tickets that were active at the time the water parks were closed through December 31, 2021 will automatically be extend. Guests may also still choose to cancel their ticket instead. If you would like to choose this option, you will need to call the Disney Reservation Center. For those who had already purchased a water park ticket but are now unable to visit by December 31, 2021, you may apply the value of an unused ticket toward the purchase of a ticket for a future date.
Good news for those who purchased a Water Parks or Water Parks After 2 Annual Pass though! If it was active at the time the Water Parks were closed, it will be automatically extended for the period both Water Parks were closed. As an alternative, water park Passholders may instead choose to cancel their pass and should call (407) 939-2732.
Health and Safety Guidelines
Disney's Blizzard Beach will operate in alignment with the health and safety protocols implemented, when the park reopens. This will include reduced capacity, temperature screenings, physical distancing and face coverings. Guests ages 2 and up will be require to wear face coverings in designated areas. This includes at the park entrance and exit, retail areas, and food and beverage ordering areas. Face coverings will not be permitted while going down the water slides or when swimming in the water. Face covering may also be removed while actively eating or drinking. Guests should remain stationary and maintain appropriate physical distancing.
Take a look at what you need to know before you go in our guide.
For those looking to visit Disney's Typhoon Lagoon Water Park, unfortunately, that park will remain closed until further notice.
For vacation planning information, please visit our
Walt Disney World
planning section.