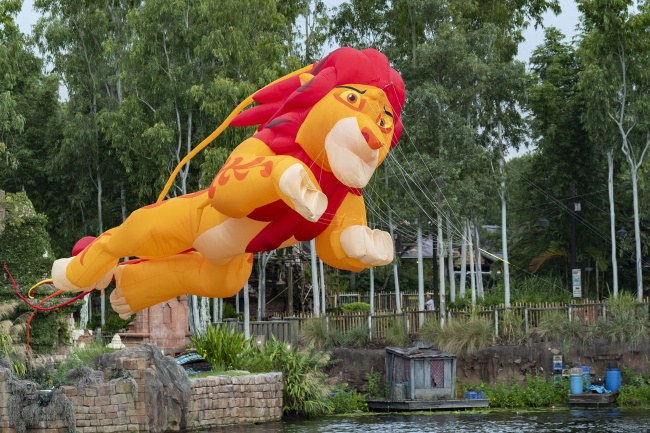 This summer there will some great new entertainment offerings returning to Disney's Animal Kingdom! Well, some are already back and will be tweaked, others will be returning after being gone for a while.
KiteTails
First, Disney KiteTails will see a change. This show, which debuted as part of the Walt Disney World's 50th anniversary will be seeing a small change. Instead of taking place in a singular location, the kites will be able to be seen from anywhere around the Discovery River Lagoon, with shorter but more frequent performances throughout the day.
Character Flotillas
Between Disney KiteTails performances, Discovery River will continue to also feature Character Flotillas! These high-energy boats showcase the characters in fun ways on the water. Guests may see Mickey and friends, Timon, Rafiki and Pocahontas several times each day.
Festival of the Lion King
Another change to a popular show is the return of some fan-favorite acts which are part of the Festival of the Lion King show. Not only will the Tumble Monkeys be back this summer, but the show's iconic birds will also be returning.
Adventures Outpost
Also, later this summer, Guests visiting the park will soon be able to share a high-five with Mickey & Minnie at Adventurers Outpost.
Finding Nemo: The Big Blue…and Beyond
Finally, later this summer, you'll be able to take in the newly updated "Finding Nemo: The Big Blue… and Beyond." This updated show which takes place in the Theater in the Wild will have Guests catching up with the group of fish from Dr. P. Sherman's office. They have made their way across the ocean to the Marine Life Institute. The fish tell Nemo's story in this fully updated, 25-minute show. The show will continue to incorporate live performers and puppets, along with many of the favorite songs and production numbers from the original "Finding Nemo: The Musical."
The show features a new script and new scenic set pieces. It also features a new LED video wall designed to visually extend the world of the physical sets on stage.
Follow The Mouse For Less for more information about the latest Disney's Animal Kingdom news.
For more Disney news and trip planning advice, follow The Mouse For Less on Facebook, Twitter, Instagram, YouTube, or TikTok.
For vacation planning information, please visit our
Walt Disney World
planning section.