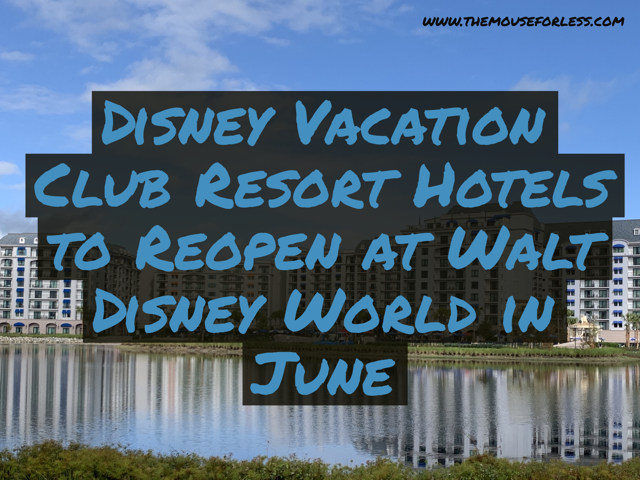 After sharing their initial reopening plans for the Walt Disney World Resort, today Disney shared details that their Disney Vacation Club Resorts would be reopening in June!
Due to the fact that the parks will see reduced capacity when they officially let Guests return, the Walt Disney World Resort is temporarily pausing new Disney Resort hotel reservations so that there can be a focus on those Guests with existing tickets and reservations. With that being said, at the Walt Disney World Resort, beginning on June 22, Disney Vacation Club resorts will reopen to members and Guests. In addition, Disney's Fort Wilderness Resort & Campground will also reopen on that date. For those looking to visit Disney Vacation Club resorts in either Vero Beach, Florida, and Hilton Head, South Carolina, they will be re-opening to members and Guests starting on June 15.
To keep Guests as safe as possible, plans will be put in place to support required physical distancing. In addition, there will be enhanced cleaning measures, along with a number of other safety and cleanliness protocols that will be implemented as part of this reopening based upon applicable guidance from health authorities and government agencies. One thing to keep in mind is that Cast Members as well as Guests who are 3 years of age and older will be required to wear appropriate face coverings in common areas of resort hotels.
Additional information on enhanced health and safety measures and operational changes for reopening locations will be shared soon. Do keep in mind that these policies are subject to change as conditions are monitored and updated guidance has been received from health and government authorities.
For vacation planning information, please visit our
Walt Disney World
planning section.