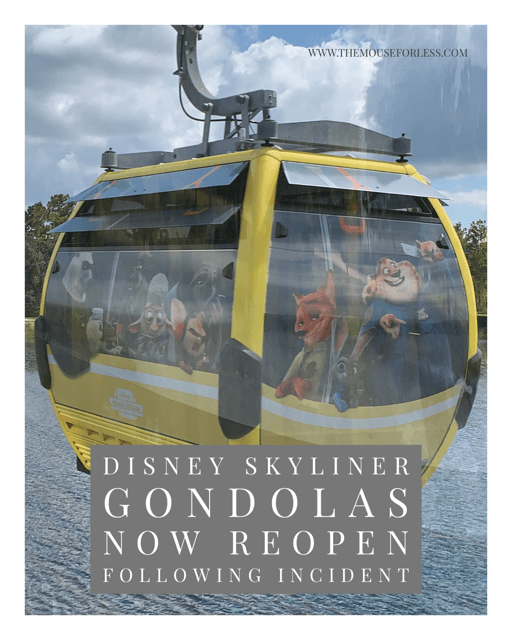 Following the recent incident that occurred with the Disney Skyliner that caused the system to be temporarily shut down for about a week, it's been shared that the system is now open once again. Guests may travel aboard Disney Skyliner from 8:00 a.m. to 10:30 p.m.
For those who missed it, back on October 5, just 6 days after officially opening, the Disney Skyliner had an incident occur that shut down the system. Images from the evening showed that several gondolas that had crashed into each other. Some guests were evacuated and others were able to exit at the gondola stations. Guests reported that they had been in the gondolas for several hours and they were instructed to open the emergency kits that are located in the cabins.
To make sure these kinds of incidents don't re-occur, Disney has completely reviewed the system with the manufacturer. In addition, they have made adjustments to not only processes and training, but also with communication to Guests who are onboard the Disney Skyliner.
There will be a few system updates that will occur later this week that will result in the following modified operating hours:
October 16: The Disney Hollywood Studios line will be closed while the other two lines will be available from 1:00 p.m. – 10:30 p.m.
October 17-18: All lines will be open from 1:00 p.m. – 10:30 p.m.
As someone who has actually ridden the Disney Skyliner, I can assure you that I found the system to be very safe. Do keep in mind that the cabins may slow or come to some stops during your ride, which can happen when Guests need to be accommodated who require additional time to load their cabin.
For vacation planning information, please visit our
Walt Disney World
planning section.