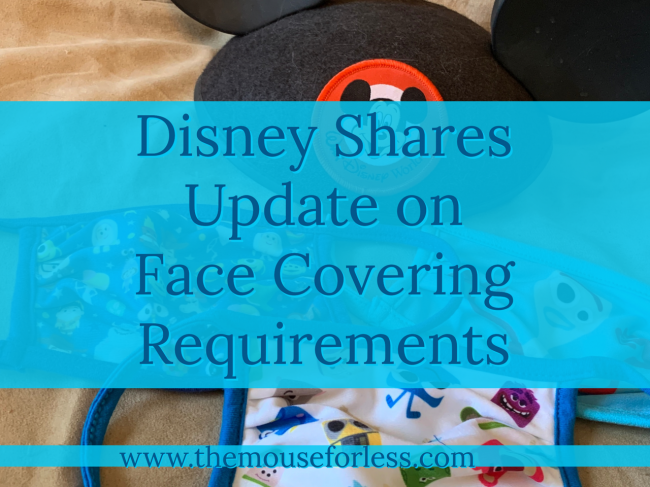 (Walt Disney World has lifted the last of its mask requirements, meaning face coverings will be optional for visitors at all locations on the central Florida Disney property.)
With the vaccine for COVID-19 rolling out around the world, many are asking questions. Will face coverings still be required for those who have gotten the vaccine when visiting Disney Parks? The answer to that question currently is, yes.
Disney is following along with Centers for Disease Control protocols. Currently the CDC is still recommending that people continue to practice healthy behaviors. (Yes, that includes wearing a mask.) With that in mind, Disney is still requiring that Cast Members, as well as Guests ages 2 and up will need to wear face coverings at all times. That is unless Guests are actively eating or drinking while remaining stationary and maintaining appropriate physical distancing.
In addition, to continue to keep Guests safe, they will still be required to participate in temperature screenings. The Walt Disney World theme parks will continue to operate at reduced capacity. Also, physical distancing will still be promoted and there will still be an increased frequency in cleaning.
The combination of these precautions, as well as Guests complying with them is what is enabling the parks, Resort Hotels and Disney Springs to be open.
What's New?
There is another new update to the policy, however. Face coverings with clear panels are now acceptable, so long as they meet certain requirements. Face coverings may have an integrated transparent plastic panel to aid in viewing the wearer's mouth. These face coverings must however be a fabric face covering that includes a solid plastic panel containing no openings that is attached to the fabric on all sides using tight knit stitching. In addition, the face mask must meet all other face covering requirements.
Disney will continue to work with health authorities. They will evaluate and adjust guidelines courtesy of guidance and recommendations from their team of experts.
For more information about Disney's face covering policy, visit our guide.