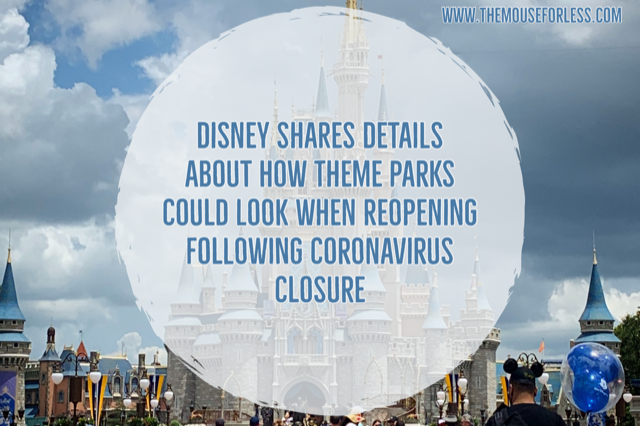 Disney Parks Chief Medical Officer, Dr. Pamela Hymel shared some details via the Disney Parks Blog on the plans and considerations they are looking at as they prepare for the reopening of the theme parks and resort hotels following the Coronavirus closures.
Some of the things that may be utilized will include:
Phased reopening: Disney may utilize a gradual reopening and/or partial reopening of certain locations to start with. For example, the opening of retail and dining locations prior to the opening of the theme parks.
Physical distancing and capacity measures: Disney will be taking a closer look at things like queues, restaurants, hotels, ride vehicles and other facilities throughout the park and across the resort to ensure that physical distancing guidelines will be able to be implemented and adhered to based on guidance from health authorities, such as the Centers for Disease Control and Prevention (CDC) and appropriate government agencies. This will likely include implementation of Guest capacity measures to comply with state and federal guidelines. In addition, technology may play an important part in keeping Guests physically distanced, via things like the Play Disney Parks App and through virtual queues at Disneyland and Walt Disney World.
Cleanliness and sanitization: There will be an increased focus on cleaning and disinfection. Disney is working to determine where this increased focus should take place, as well as the cleaning products and processes that will be used to ensure that things are kept clean.
Screening and prevention support: Guidance from the government and the medical community regarding enhanced screening procedures and prevention measures will be followed. These include those related to personal protective equipment (PPE), like face coverings. Some measures have already been implemented at the parks and resorts, like adding hand sanitizers and hand washing stations.
Cast training: Health and safety is a number one priority. New training will be provided to Cast Members prior to reopening.
Other guidelines were recently shared via the Orange County Economic Task Force and they can be found here.
While these guidelines were released via Disney, keep in mind that they are guidelines and they may change. In addition, there was no word on when Walt Disney World or Disneyland may reopen. We will make sure to pass along any further information as we learn it.