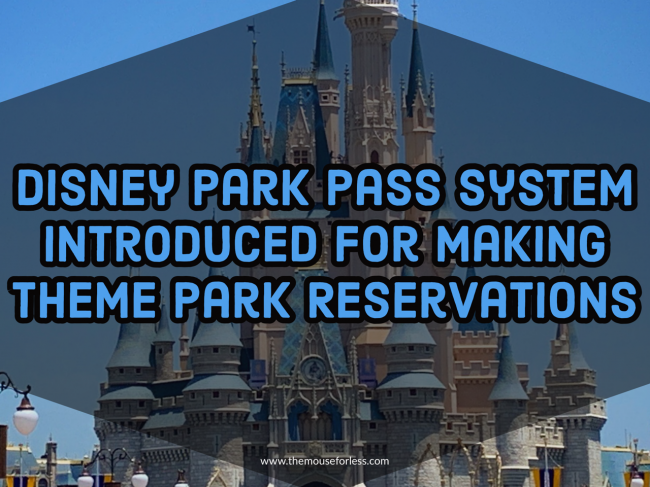 We are less than a month away from the parks officially reopening, with the Magic Kingdom and Disney's Animal Kingdom reopening on July 11 and Disney's Hollywood Studios and EPCOT reopening on July 15. As part of the reopening, Disney has stated that in order to enter the parks, Guests would need to make reservations. This new reservation system is called the Disney Park Pass System.
With the Disney Park Pass System, the Walt Disney World Resort will be able to limit attendance and control guest density all in accordance with guidance from health and government authorities on physical distancing. For the time being, all Guests who have either a ticket or Annual Pass will be required to make a reservation in advance for each park entry, using the new online tool.
In order to use Disney Park Pass System, Guests will need a My Disney Experience account and valid theme park ticket or Annual Pass that's linked to their My Disney Experience account. For those with a Disney Resort hotel reservation, you will also need to be sure to link it to this My Disney Experience account beforehand.
Once Guests have logged into their My Disney Experience account and linked their ticket media, they will be able to access a calendar of available reservation dates for each theme park.Guests with multi-day tickets will be required to make a park reservation for each date of their visit. Those who are traveling with families and friends can link their tickets together and look to arrange theme park entries at the same time. Of course, due to restrictions, park reservations are limited in number and subject to availability. This availability can change until your reservation is finalized.
The big question has been about the ability to Park Hop, and with this new system, unfortunately Guests will only be able to select one park per day; visiting more than one park per day will be temporarily unavailable due to the strict attendance limitations. Those Guests who already have tickets that include the Park Hopper Option or Park Hopper Plus Option will have options available to them for ticket modifications and cancellations. The hope is that Disney will be able to bring back the ability to Park Hop soon and they will continue to offer these add-ons for 2021 ticket purchases.
As far as reservations go, Disney will be reaching out to Guests who have already purchased tickets, as well as Annual Passholders with more information on when they will be able to check availability to make their park reservations. The Disney Park Pass system will be opened to these guests in phases, beginning with those with future Disney Resort and other select hotel stays.
For those who are still looking to purchase tickets and make resort hotel bookings, sales of these items will resume later this summer and will be based on availability of park reservations.
Here are the dates of when you'll be able to begin to make your reservation:
June 22: Guests with Disney Resort Hotel reservations and valid theme park admission that is linked in My Disney Experience can start to make theme park reservations
June 26: Disney Park Pass System will open for Annual Passholders
June 28: Disney Park Pass System will open to existing ticket holders. In addition, by June 28, new Disney Resort hotel packages and theme park tickets will be on sale for arrivals in 2021.
Later this summer: Based on availability, sales of 2020 tickets and Disney Resort hotel arrivals will resume.
Overall, Disney is working to make sure that a Walt Disney World vacation is as enjoyable as possible for those who choose to visit during these unprecedented times.
For vacation planning information, please visit our
Walt Disney World
planning section.