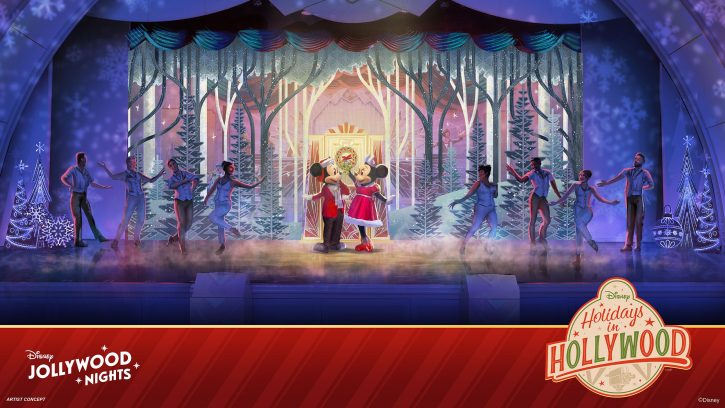 I've got my outfit for the first party night and am anxious to learn more about Disney Jollywood Nights, the separately-ticketed event being held this holiday season at Disney's Hollywood Studios. The new event will take place from November 11 through December 20. It will include new live stage shows, special character greetings and Jingle Bell, Jingle BAM! fireworks spectacular. Guests can also indulge in delectable treats and cheerful beverages, dance the night away and enjoy favorite attractions.
Disney Jollywood Nights Entertainment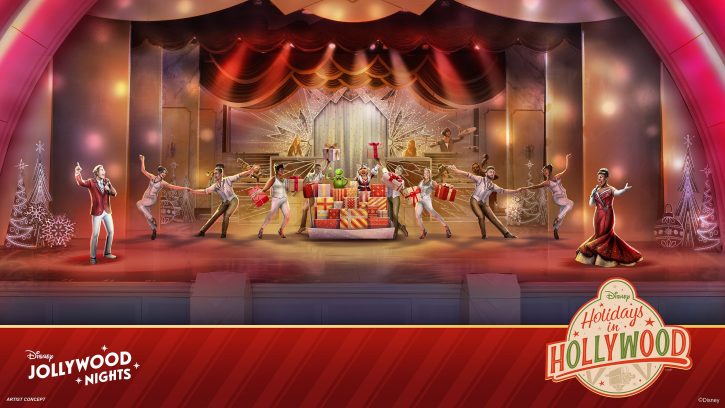 Two new shows will allow Guests to enjoy the joy of the holidays. Guests will want to head to the Theater of the Stars to experience Disney Holidays in Hollywood. This will be a star-studded variety show in the grand tradition of Tinseltown holiday specials, with a twist of today's Hollywood magic. The show will feature special guest stars including Kermit the Frog, Miss Piggy, Tiana, Belle, Mickey Mouse and Minnie Mouse. Theere will be plenty of surprises in store, like a brand-new original song by Tiana. Singers, dancers and live jazz musicians are just some of the entertainers in this dazzling performance. Jolly vignettes remind everyone that the holidays mean something special to each and every one of us.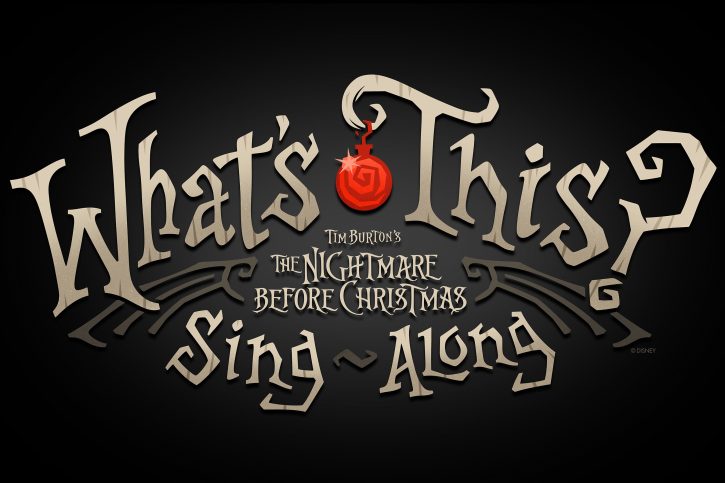 Guests also won't want to miss "What's This? Tim Burton's The Nightmare Before Christmas Sing-Along." This show will take place in The Hyperion Theater. Here, Jack Skellington takes us on an ethereal exploration of "Tim Burton's The Nightmare Before Christmas." Sing along to beloved songs from the iconic film. Along the way, Guests will conquer Oogie Boogie and be encouraged to follow their curiosity.
Disney Jollywood Nights Characters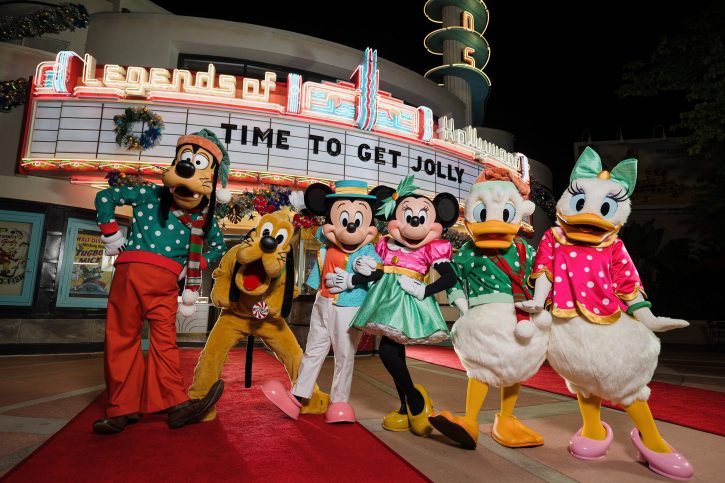 Mickey Mouse, Minnie Mouse and friends will all be donning new outfits exclusively for this glitzy celebration. The new outfits are inspired by the party's vintage vibe, celebrating the glitz and glam of Hollywood. Mickey & Friends Holiday Greetings will  be found in Animation Courtyard. The gang has just wrapped on the set of their new holiday film, and we're all invited to catch a glimpse of the magic!
More Holiday Fun
Guests will find a DJ who will play the merriest of mash-ups, featuring a mix of smooth classics layered with modern beats at the entrance. In addition, stroll around Echo Lake for a trip down a more recent memory lane featuring holiday music and characters from classic Disney Channel favorites, including Powerline Max, Rescue Rangers Chip 'n' Dale and Phineas and Ferb.
Throughout the event, there will be lots of spectacular entertainment. At Welcome to Disney Jollywood Nights, strike a pose for "The Gram" in front of a stunning new neon sign before joining the dance party. Disney PhotoPass photographers will be there to capture the moment, and complimentary digital downloads of Disney PhotoPass photos captured during the event are included with the price of the ticket.
Also, get ready to pose for other special photo opportunities. A Robotic Arm Magic Shot will capture red carpet moments with a glamorous, show-stopping video. There's also a Camera Array Magic shot where seven cameras will shoot a boomerang-style photo of groups in front of a Disney Jollywood Nights backdrop.
And of course, you can't forget the Disney's Hollywood Studios classic, Sunset Seasons Greetings, which will be presented nightly throughout the season. Here The Twilight Zone Tower of Terror will be magically transformed into an array of holiday scenes as snow falls along Sunset Boulevard.
Attractions
Throughout the night, Guests will be able to enjoy favorite attractions with lower wait times during this limited-capacity event. Do keep in mind that a virtual queue will be in place for Star Wars: Rise of the Resistance. Remember to link event tickets in the My Disney Experience app to be eligible for this virtual-queue opportunity.
Want to book your next Walt Disney World vacation? Our friends at The Magic For Less Travel can assist. Get a quote now.
Follow The Mouse For Less for more information about the latest Disney Jollywood Nights news.
For more Disney news and trip planning advice, follow The Mouse For Less on Facebook, X, Instagram, Threads, YouTube, or TikTok.
For vacation planning information, please visit our
Walt Disney World
planning section.