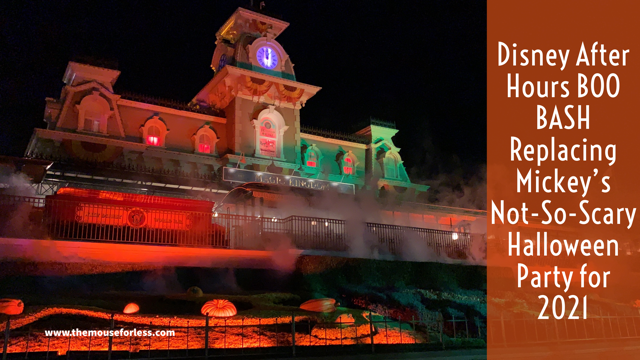 One of the most common questions I've gotten over the past few months has been, do you think Mickey's Not-So-Scary Halloween Party will happen at the Magic Kingdom this year. The event had been cancelled for 2020, after all. And I had to be honest with people. I didn't. There were too many aspects of the parties that just still can't happen. The Magic Kingdom still can't hold fireworks, there's no ability for the Halloween stage shows, and a full parade is something that also can't be performed. But, you knew Disney wouldn't skimp on offering Halloween festivities, right?
For 2021, the Magic Kingdom will be offering the Disney After Hours BOO BASH! What's most interesting is that Disney is also bringing back another popular event to the mix with the BOO BASH – the Disney After Hours events!
What is the Disney After Hours BOO BASH?
Disney After Hours BOO BASH will take place on select nights from August 10 – October 31. The event will take place most nights from 9:00 p.m. to midnight. Some nights in August and September will take from 9:30 p.m. to 12:30 a.m. though.
So what will the festivities include? As I mentioned, there won't be fireworks or stage shows, but there will still be lots of fun. Guests will be able to experience Halloween-themed cavalcades and character sightings throughout the park. There will also be special performances by the Cadaver Dans, décor, lighting, and music. Oh and you know the ability to trick or treat? Yep, that's coming back too! (Give me all the candy!!!)
Oh and yes, Guests of all ages will still be able to dress in costume for the event. As an important reminder, costume masks are not permitted for adults; they can only be worn by children younger than 14. In addition, all guests are required to wear approved face coverings during the event.
Those who have purchased a Disney After Hours BOO BASH ticket will be able to enter the Magic Kingdom as early as 7:00 p.m. without the need to purchase a day park ticket OR the need to make a Disney Park Pass reservation.
Disney After Hours events, for those who don't know, are special events that are open to a limited number of Guests, following normal park hours. The experience allows Guests to experience lower wait times at more than 20 attractions.
Tickets for the Disney After Hours BOO BASH will go on sale next month, with an early purchase window available to guests of select Walt Disney World Resort hotels.
Stay tuned as we learn more about the Disney After Hours BOO BASH, including when tickets will go on sale.
For vacation planning information, please visit our
Walt Disney World
planning section.