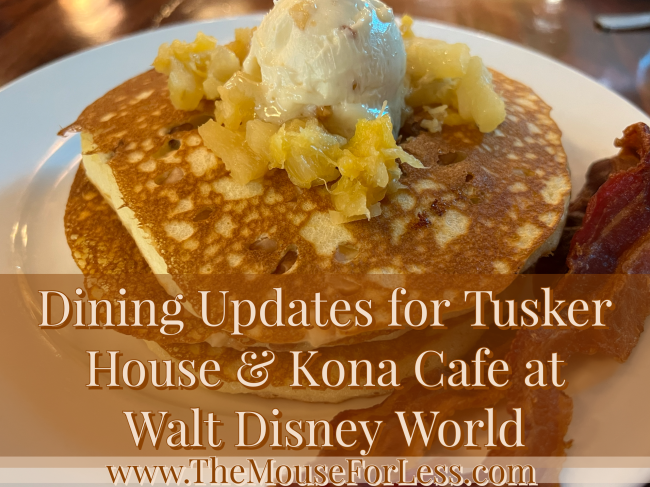 We love food here at The Mouse For Less. And there are a number of Disney restaurants that are among our favorites. One such restaurant is Kona Cafe. This fan-favorite has been closed recently for refurbishment, but we're excited to say that it will be reopening soon! This Disney Polynesian Village Resort restaurant will return once again for breakfast, lunch and dinner options beginning on November 1.
The restaurant will feature a refreshed experience. The look, feel, and even some flavors will be different, yet familiar. Kona Cafe will still feature American cuisine with an Asian flare. Plus, Guests can still watch the chefs at work in the onstage sushi kitchen.
Now, one of my favorite meals at Kona is breakfast. While most people gravitate towards the Tonga Toast (which is Banana-stuffed French Toast rolled in Cinnamon Sugar and served with a Strawberry Compote), my favorite is actually the Pineapple Macadamia Nut Pancakes. Also returning to the lunch and dinner menu will be the Big Kahuna Burger and Seafood Pu Pu Platter. There will even a new plant-based offering for dinner, the Sautéed Red Quinoa.
Tusker House
Moving on to a restaurant in the parks, Tusker House at Disney's Animal Kingdom will be transitioning from a family-style meal back to a buffet style dining experience. Beginning on November 1, Guests will once again be able to enjoy all they care to eat with a menu filled that is African-inspired flavors. In the morning, enjoy pastries like the Zebra Coffee Cake, breakfast classics like Simba and Mickey Waffles, and a variety of breakfast meats.
For lunch and dinner, enjoy breads and dips, house specialties like the Spit-roasted Tandoori Chicken and Green Curry Shrimp, plant-based options including the Cauliflower Bunny Chow, and various salads. Little ones can enjoy corn dog nuggets and macaroni and cheese. And yes, there will be plenty of desserts to enjoy too!
Guests will also be able to meet some of their favorite characters like Donald Duck and other Disney pals. They will be dressed in their safari adventure gear.
Follow The Mouse For Less for more information about the latest Disney Dining news.
For more Disney news and trip planning advice, follow The Mouse For Less on Facebook, Twitter, Instagram, YouTube, or TikTok.
For vacation planning information, please visit our
Walt Disney World
planning section.