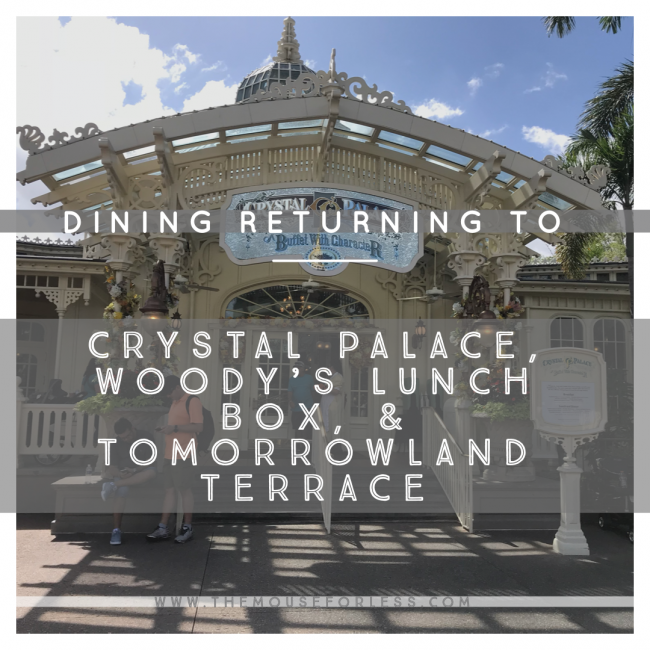 We are excited that we are soon going to have more dining options to choose from at the Walt Disney World Resort! Both Disney's Hollywood Studios and the Magic Kingdom will be adding in fantastic options to their already wonderful line up!
Everything kicks off on November 25 at Disney's Hollywood Studios, when Guests will once again be able to stop at Woody's Lunch Box in Toy Story Land. Woody's Lunch Box will be open from 11:00 a.m. – 5:00 p.m., and Guests can find favorite foods like the Grilled Three-Cheese Sandwich and BBQ Brisket Melt, as well as a Lunch Box Tart of the Day. Yum! Cannot wait for this spot to reopen, as it's certainly one of my favorites!
Moving into December, the Magic Kingdom will add some options. First will be The Crystal Palace which will return beginning on December 13. The restaurant will serve up a new family-style meal menu that will include crispy fried chicken with honey pot drizzle, fire-roasted prime rib of beef, fried cauliflower and more. Unfortunately, Winnie the Pooh and friends will not be present. The Crystal Palace will be open daily for lunch and dinner from 11:30 a.m. – 7:00 p.m. (should the park close earlier, the last available reservation will be at park close). Pricing  will now be $39 per adult and $23 per child. Reservations for Crystal Palace open on December 1.
Then beginning on December 17, you'll want to visit Tomorrowland Terrace for a great quick service meal! Tomorrowland Terrace will actually be service up seafood delights, including lobster rolls, fried shrimp, and fried chicken. (Maybe making up for the fact that Columbia Harbor House is still closed?) Tomorrowland Terrace will operate from 11:00 a.m. – 4:00 p.m.
As things continue to get added to the dining line up, we'll be sure to share the details with you here!
For vacation planning information, please visit our
Walt Disney World
planning section.