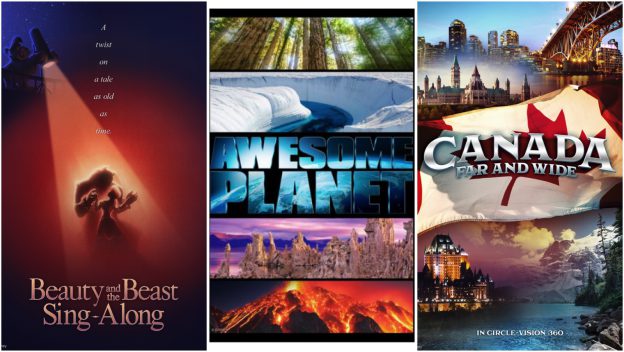 Announced at the D23 Expo were three brand new films coming to Epcot in January 2020. Now we know that Awesome Planet, the Beauty and the Beast Sing-Along, and Canada Far and Wide will debut on January 17!
"Awesome Planet" will be found in The Land pavilion in the former location of the Circle of Life: An Environmental Fable film. This new experience is slated to showcase the beauty of Earth's in a 10-minute film that will feature spectacular imagery, in-theater effects and an original musical score from Academy Award-winning composer Steven Price.
The "Beauty and the Beast Sing-Along" will be found in the France Pavilion and is directed and produced by Don Hahn who is the producer of both the animated and live-action "Beauty and the Beast" films. During this new experience, Guests are invited to participate in a twist on the story, which features narration from Angela Lansbury. (Who played Mrs. Potts in the original animated version of the film.) The new film will run in rotation with "Impressions de France," which will receive an upgrade to 4K projection.
Finally, showing in the Canada Pavilion will be "Canada Far and Wide in Circle-Vision 360". This is an update to the previous "O Canada!" film. There are going to be new scenes, a new musical score by Canadian composer Andrew Lockington and new narration by award-winning actors Catherine O'Hara and Eugene Levy.
Which new Epcot film will you head to first?
For vacation planning information, please visit our
Walt Disney World
planning section.